Welcome to Yummee Yummee Gluten Free!
Happy Easter!
Hippity! Hoppity! Easter is on its way! It's time to bake some sweet surprises for your family. Make the best Carrot Cake ever with Yummee Yummee's premium Muffins & Coffee Cakes mix. Show some bunny ultimate love with a case of Cookiees mix. Dust off the cookie cutters and make Cut Out Cookies. Don't forget the chocolate with rich Fudgee Chocolate Velvet Cake and Daddee's Favorite Cookies. Last month, Yummee Yummee featured game time snacks, dips, and finger food. Visit Basketball Madness.

Discover your "ONE MIX . . . Endless Possibilities!" with our premium gluten-free baking mixes. Make some bunny gluten-free happy!
Cut Out Cookie Bunnies
Yummee Yummee's Cookiees mix makes the

best gluten-free cookies!. Bake some incredibly delectable, delicious, and dunkable cookies even a simply scrumptious chocolate cake. Discover why "ONE MIX . . . Endless Possibilities!" is more than a slogan. It's real.
Carrot Cake Cupcakes are Rabbit Food
You can find lots of gluten-free Carrot Cake recipes on the Internet. You will NOT find any gluten-free Carrot Cake recipe that tastes like this one. It will fool any gluten gobbler on the planet. Share your food and share the love. Happy Easter!
Chocolate for the Bunny
Yummee Yummee's premium gluten-free baking mixes make simply scrumptious baked goods - from cakes to cookies. Don't hesitate. Choose from more than 150 different recipes using our gluten-free baking mixes. Order a case of mixes today!

There's more to life than baked goods. Eating gluten-free can be a challenge. That's why Yummee Yummee delivers a new free gluten-free recipe every month. This month's recipe could be served for Easter dinner, but you need to order Breads mix and make dinner rolls.
Yummee Yummee's premium baking mixes are formulated for taste, texture, and simplicity. You want and need recipe flexibility in your kitchen and baking. Pick your recipe, use our baking mix, make, bake, eat, and enjoy your results. Many gluten-free products are just okay. Why waste your time and money on mediocre food?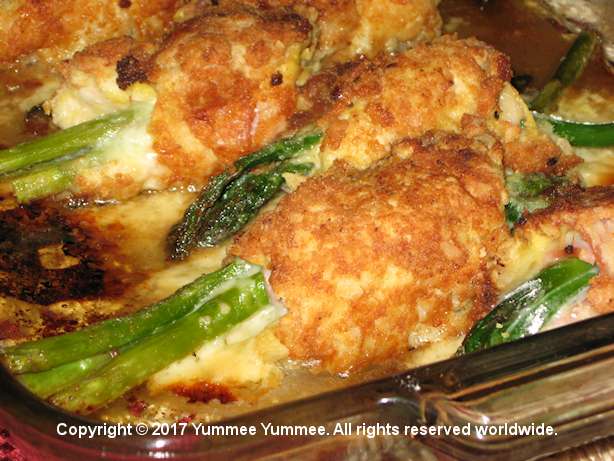 Try Yummee Yummee baking mixes instead. Order a Sample Pack and put Yummee Yummee to your taste test.
Parmesan-Crusted Stuffed Chicken
Pull out the fine china when you make this recipe. It's a step up from ham, turkey, and lamb for your Easter dinner. Parmesan-Crusted Stuffed Chicken is an elegant entrée, even if you serve it on paper plates. This recipe features chicken breast fillets stuffed with Provolone cheese, ham, and asparagus. Don't forget the decadent white wine glaze and the tangy honey and mustard sauce. This is definitely Yummee Yummee stuff!
Decorate Eggs with the Impressionists
Dreamee Dog is an extremely talented artist, but you can always learn something from everyone. This month, she studied the painting techniques of the Impressionists masters. Impressionists painted during the late 19th and early 20th century and focused on the depiction of light. Inspired by the woodblock prints of Japan, the Impressionists were fond of landscape and everyday people. Dreamee Dog painted Easter eggs with Vincent Van Gogh, Henri Rousseau, Claude Monet, Pierre-Auguste Renoir, and Paul Cezanne.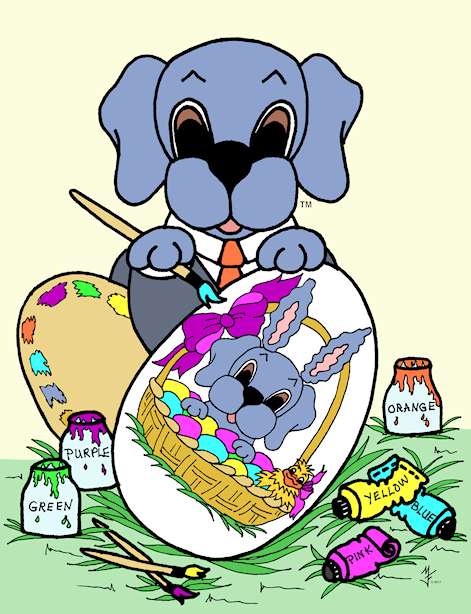 From our kitchen to yours,

you can share the day's events, be thankful, eat good home cooked food, and most important, share laughter in the kitchen and around the dinner table. Use our FREE recipes and Yummee Yummee's premium gluten-free baking mixes to make a spectacular dinner for a gathering of friends and family – gluten-free or not. Share your life; share your food. Yummee Yummee has a recipe for all occasions – holiday celebrations, parties, wedding reception, birthday, family meal, kid friendly snacks and treats, or a quiet romantic dinner. Save time and money with Yummee Yummee's premium baking mixes, excellent recipes, and superior results. Serve only the best family-friendly fare with Yummee Yummee.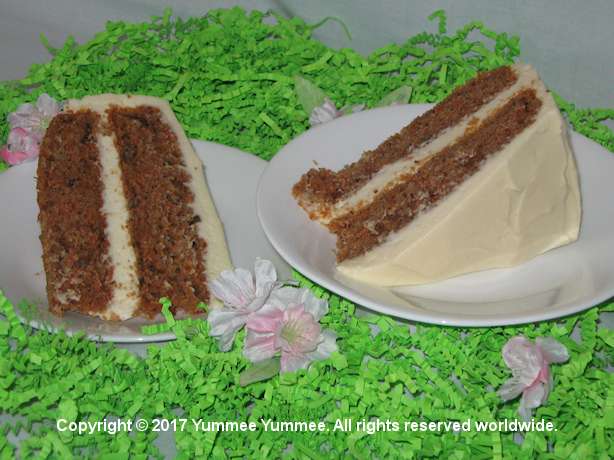 Not available in stores - online only! SHOP & SAVE 20% today! A Sample Pack is a great way to taste test each of our premium gluten-free baking mixes. Dreamee Dog and the Yummee Yummee Team wish you a Happy Easter! Celebrate with gluten-free Carrot Cake!
Here's the list of Impressionists artists and the name of their work on the Easter eggs in this month's coloring pages. Have fun! Dreamee Dog






Dreamee Dog

Bunny in a Basket, 2017



Paul Cezanne

Fruit and Jug on a Table, 1894



Claude Monet

The Waterlily Garden, 1899



Pierre-Auguste Renoir

Bouquet of Roses, 1909-1913



Henri Rousseau

Mandrill in the Jungle, 1909



Vincent Van Gogh

Starry Night, 1889


Sign Me Up! Tell me about new products, recipes, special offers, and fun for kids.