Welcome to Yummee Yummee Gluten Free!
It's Summer!
Summer is the perfect time for surf, sun, and a sampling of Yummee Yummee premium gluten-free baking mixes and FREE recipes. Order a Sample Pack today and enjoy a sample of what Yummee Yummee can do for you. How did you celebrate the 4th of July? Yummee Yummee made some all-American sweet treats.
Discover your "ONE MIX . . . Endless Possibilities!" with our premium gluten-free baking mixes. Summer fun must include gluten-free goodies with great tasting, fresh, homemade, baked goods.
Backyard BBQ Essentials
Yummee Yummee ensures your backyard barbecue will be a success. Try a Sample Pack of mixes today to create a variety of sweet and savory goodies for your gluten-free cookout, and fire up the grill!

A Sampling of Sweet Treats
Use a Sample Pack to make a beach perfect buffet of splendid desserts. From the simple and quick to the decadently divine, there's a recipe for everyone to enjoy with Yummee Yummee. Homemade is always better than prepared. Don't waste money on dry, crumbly, pasty, and broken gluten-free foods. Make life better with Yummee Yummee. We're proud to serve our baked goods to family, friends, acquaintances, and neighbors. Share your life; share your food with Yummee Yummee. Shop & Save 20% on a Sample Pack and discover Endless Possibilities today.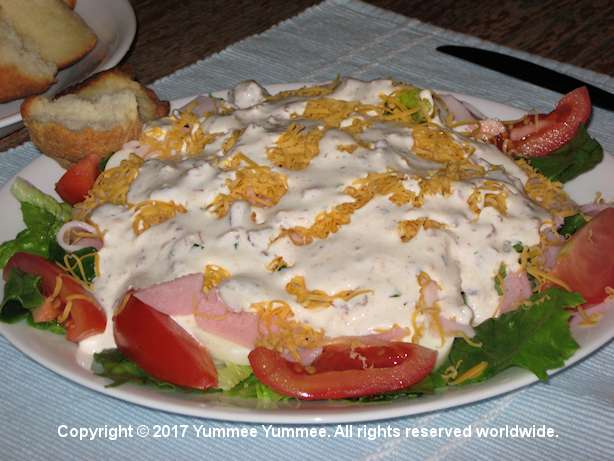 Ranch Salad Dressing
Is the Summer heat driving you out of your kitchen? You want a good meal, but it's sizzling hot. A large, garden fresh chef salad is a summer time staple at Yummee Yummee. Cool and refreshing with homemade salad dressing. This recipe is quick and easy to make with chilled mayonnaise, milk, and herbs. Make it thick or thin, and drizzle over your favorite salad.
Dreamee Dog Visits New Jersey
One of Dreamee Dog's first stops in New Jersey was the Museum of American Glass in Millville. She got to see all sorts of pretty glass sculptures made with local New Jersey sand. Next was a visit to the US War Dog Memorial in Holmdel. She had fun at Story Book Land in Egg Harbor. She saw lots of Muffler Men throughout New Jersey, but her favorite was the Dracula Muffler Man Head in Holmeson. Dreamee Dog couldn't decide if she was scared of him, or wanted a decoration like that for her front yard for Halloween. Finally, she found the Statue of the First Man at the North Pole, Matthew Henson, in Camden. She was so intrigued by this adventurer that she even bought his book, "A Negro Explorer at the North Pole", which was originally published in 1912. New Jersey's state flower is a purple violet, but can you find the Hadrosaurus?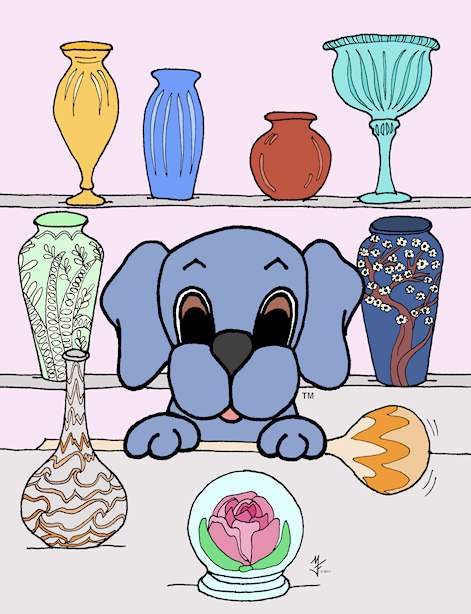 From our kitchen to yours, you can share the day's events, be thankful, eat good home cooked food, and most important, share laughter in the kitchen and around the dinner table. Use our FREE recipes and Yummee Yummee's premium gluten-free baking mixes to make a spectacular dinner for a gathering of friends and family – gluten-free or not. Share your life; share your food.

Yummee Yummee has a recipe for all occasions – holiday celebrations, parties, wedding reception, birthday, family meal, kid friendly snacks and treats, or a quiet romantic dinner. Save time and money with Yummee Yummee's premium baking mixes, excellent recipes, and superior results. Serve only the best family-friendly fare with Yummee Yummee.
Not available in stores - online only! SHOP & SAVE 20% today! A Sample Pack is a great way to taste test each of our premium gluten-free baking mixes. Dreamee Dog and the Yummee Yummee Team wish you a Safe and Fun Summer!
Sign Me Up! Tell me about new products, recipes, special offers, and fun for kids.