Treat Santa's Reindeer
Tucson, Ariz. - December 9, 2011 – Christmas Eve is a long and busy night for Santa and his team. The reindeer work hard pulling Santa's sleigh through the sky. True believers everywhere know that Santa brings presents to good girls and boys with the help of his reindeer team. Santa eats plates of cookies and drinks glasses of milk for extra energy on his long and busy trip. The reindeer team definitely deserves a treat, and you can make sure Santa's team stops at your house. Get Yummee Yummee's "top secret" recipe that is a perfect treat for hard working reindeer. Help the true believers at your house celebrate Santa's arrival and the magic of Christmas. While Santa delivers the presents, his reindeer get to eat. Get the complete details at Yummee Yummee. It's Merry Yummeeness.
Treat Santa's Reindeer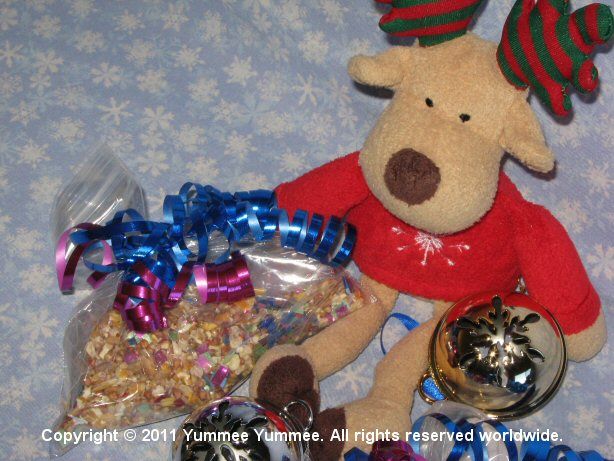 Web site: http://www.yummeeyummee.com
Online store: http://www.yummeeyummee.com/store/index.html
Subscribe to TheDreameeDog Channel: http://www.youtube.com/user/thedreameedog
Like Yummee Yummee on Facebook
Follow The Dreamee Dog on Twitter
ABOUT: Yummee Yummee produces 4 unique and highly versatile gluten-free baking mixes - Dreamees, Muffins & Coffee Cakes, Breads, and Cookiees. Make artisan crackers and biscuits; fruit filled muffins, coffeecakes, and quick breads; soft sandwich and artisan breads, pizza, and cinnamon rolls; chip-filled cookies, easy-to-make bars, and sugary delights. Our baking mixes offer remarkable taste, gluten-like texture, and incredible value for gluten-free bakers. Unlike most single purpose baking mixes, Yummee Yummee gives the baker complete control. You decide what to bake and enjoy. Mixes are available exclusively at yummeeyummee.com. The Dreamee Dog is the official spokes pup for Yummee Yummee.
# # #
For more information concerning this press release click here for contact information.:


Listen to the Dreamee Dog ...