Gluten-Free Pizza, Crackers, and Biscuits
Enjoy savory crackers, soft crust yeast free pizza, Italian breadsticks, hamburger

and hot dog buns, noodles, dumplings, tortillas, biscuits, and more. Every recipe is simply scrumptious! Yummee Yummee recipes are simple and easy. Use any artisan biscuit recipes to make hamburger or hot dog buns for your next barbecue. Or, try Chicken Pot Pie Biscuits for mini-sandwiches for the big game or a ladies' luncheon.
Discover your "ONE MIX . . . Endless Possibilities!"
Our Soft Crust Pizza will satisfy your yeast-free pizza cravings. Use the oven or the microwave, either method uses the same simple recipe. What do grass skirts, pink flamingos, and summer have in common? Vegetable Crackers are the perfect complement to any summer luau or cookout. Italian Breadsticks, or biscuits, are a Yummee Yummee favorite. Many customers have compared these soft, flavorful biscuits to those served at national restaurant chains.

Some like it hot and spicy. Pepper Jack's Crackers are made with real Pepper Jack cheese in the cracker. Use Habanero Jack Cheese and set your mouth on fire.
Try our recipe for Hamburger and Hot Dog Buns - yeast-free, soft, and delicious. Grandma's Noodles and Dumplings are guaranteed to become a family favorite.

Make chicken and dumplings, chicken noodle soup, or cheese-filled ravioli. Reheat without fear. This recipe is stable even the second time around.

Chicken Pot Pie Biscuits make delicious mini sandwiches. Add some fresh vegetables for an entertainer's delight. Our recipe for Saltees Crackers is scrumptious with soup or salad.
Little hands love pizza. It's a childhood memory smothered in cheese. Cheesy Italian Mini Pizzas are the ideal recipe for a quick lunch. Yankee or Southern? Our Cornbread is a favorite with soups and chilis.

What's your favorite cracker flavor? Our Cheddar Cheese Crackers are fresh from the oven yummee and can be made in any shape. Cheesy Biscuits are great with almost any meal; barbecue, chicken and rice, or hot soup. Our simply scrumptious biscuits will make any dinner a festive family gathering.

Take a flavor trip to the Rio Grande. Southwest Biscuits are seasoned with a blend of garlic, cilantro, cumin, and chili powder. Our Flour Tortillas are perfect. Thin, but support any fillings without falling apart. It's gluten-free Mexican food the way it's supposed to be. Make some fresh salsa as a dip. Nacho Cheese Crackers are delicious plain, but top them with Cheddar cheese and refried beans for a special treat. Bake or microwave - our Thin Crust Pizza recipe is so versatile that you can even roll the dough out for a classic cornmeal crust.
Italian restaurants are famous for their breadsticks. Italian Cheese Crackers capture the romance of your favorite night out. Our Cheesy Garlic Biscuits are Yummee - two cheeses and garlic powder in the biscuit and brushed with garlic butter. Chicken-Flavored Chickees Crackers are easy to make.

These crackers break in your mouth - not in the box. Choose from 7 different cracker flavors from one Dreamees mix. Cracker Crust Pizza has the right crunch and texture. Even loaded with toppings, you can grab a slice with your hand. Definitely Yummee Yummee!
Soup without crackers is just boring soup! Our Soup Crackers recipe makes puffy, crunchy, bites of flavor. Have some fun! Cut them in fun shapes for the kids. We've even made oyster crackers. Grilled ham and cheese? Thin Sandwich Buns are great hot or cold. Pile on the sub shop-style toppings and enjoy. Just add a bowl of soup and you have a wonderful, quick dinner. Baked Potato Biscuits feature the flavors of a loaded baked potato. Made with Colby-Jack cheese, real bacon bits, and fresh chives, these biscuits are simply scrumptious. Fiesta Biscuits are seasoned to perfection and topped with an extra helping of cheese. Do you like things spicier? Swap the cheese to Pepper Jack or Habanero Jack and feel the burn.
It's time

you discovered Yummee Yummee premium gluten-free baking mixes and recipes. Every recipe is Yummee Yummee good and will please everyone - gluten-free or not. Yummee Yummee gluten-free Dreamees mix recipes are easy to make and full of flavors – Sweet or Savory.
"Stop Dreaming . . . Start Eating!"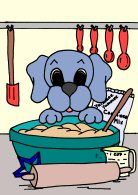 Read, print, or save our FREE Yummee Yummee recipes. It's easy. Click on the recipe image or description for the recipe in a PDF format. Use the Adobe Acrobat Reader to open, read, and print the recipes. Check our FAQ page for more information and details about the Adobe Acrobat Reader.
Add Yummee Yummee goodness to your pantry. Select a recipe to make, bake, eat, and enjoy - today! Enjoy Yummee Yummee's Dreamees Savory and Sweet recipes. Stock your pantry today with a case of Dreamees all purpose baking mixes! Need ingredient substitutions for Savory Dreamees recipes?
Discover your "ONE MIX . . . Endless Possibilities!"