National Banana Bread Day
Tucson, Ariz. - February 22, 2011 - Everyone has memories of delicious homemade banana bread. Standing on a stool helping mom or grandma mix and stir the batter was fun. Didn't you enjoy the aroma as the bread baked? Could you wait patiently for the first warm slice on a cold winter afternoon? Banana Bread is perfect any time of day for breakfast or a healthy after school snack. Grandma's recipe was passed down from mother to daughter. The same recipe generations of toddlers have eaten and begged for just 'one more piece'. It is a favorite at our home, and it's a great way to utilize ripe bananas. Home food budgets are tight, and in the current economy there's no room for waste. So, feed your family a healthy diet and get every penny out of your food budget. Celebrate National Banana Bread Day with Yummee Yummee and our gluten-free and dairy free recipe.
It's easy to make grandma's Banana Bread recipe gluten-free with Yummee Yummee Muffins & Coffee Cakes mix. Give your kids a treat or surprise grandma with this gluten-free recipe. Celebrate National Banana Bread Day "gluten-free". Here's our quick and easy recipe:
1 package Yummee Yummee Muffins & Coffee Cakes mix
¼ cup granulated sugar
2 eggs
1/3 cup canola oil
2 tablespoons water
1 cup mashed ripe bananas
Combine Yummee Yummee Muffins & Coffee Cakes mix and sugar in a large bowl. Mix well. In a separate bowl, combine eggs, oil, water, and bananas. Mix well. Pour wet ingredients into dry mixture. Mix well. Pour into 2 greased 7 x 3½ inch loaf pans. Bake at 350° for 40 minutes or until a toothpick inserted near the center comes out clean. Cool in pan for 10 minutes. Remove bread from pan and cool on a wire rack.
Cook's Note: 1 large or 2 medium bananas makes 1 cup of mashed banana. This recipe may also be prepared in a single greased 8½ x 4½ inch loaf pan. Bake an additional 15 to 20 minutes. If desired, ¼ cup chopped nuts may be added to this recipe.
Too busy to bake? Yummee Yummee has a microwave version. Our Gluten-Free 100 microwave recipes are free with purchase. Visit our web site to see the recipe list and purchase details. Imagine Banana Nut Bars fresh from your microwave in about 10 minutes. They are unbelievably good. Watch our recipe video if you are kitchen challenged.
Celebrate National Banana Bread Day on February 23 with Yummee Yummee whether you are gluten-free, dairy-free or just enjoy great banana bread. Give your children wonderful memories and delicious homemade banana bread. The fresh baked aromas are free!
Yummee Yummee gluten-free baking mixes range in price from $3.99 to $7.49 per single mix. Save 10% when you buy a sample pack of mixes. For $9.99, you may pick a mix with our Customer's Choice 2 Pack.
Web site: http://www.yummeeyummee.com
Online store: http://www.yummeeyummee.com/store/index.html
Yummee Yummee Videos: http://www.yummeeyummee.com/ddvideos.html
TheDreameeDog Channel: http://www.youtube.com/user/thedreameedog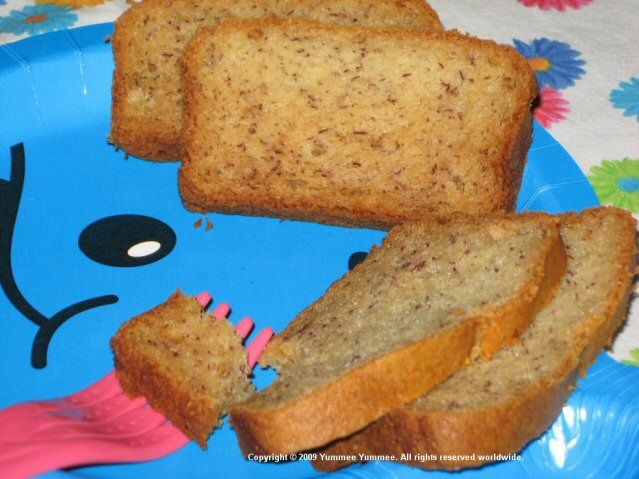 ABOUT: Yummee Yummee produces 4 unique and highly flexible gluten-free baking mixes. They are: Dreamees, Muffins & Coffee Cakes, Breads and Cookiees. Our baking mixes offer remarkable taste, gluten-like texture and incredible value for gluten-free bakers. Unlike most single purpose baking mixes, Yummee Yummee's mixes give the baker complete control of what to bake and enjoy. For example, Breads mix makes scrumptious sandwich bread, dinner rolls, artisan breads or cinnamon rolls, while our Cookiees mix makes easy cut sugar, double chocolate delights or chocolate chip cookies. The baker varies the fresh ingredients for each recipe with the mix. It's about simplicity. Prepare our Muffins & Coffee Cakes mix the day before and bake the next morning for warm oven-fresh overnight coffeecake. Enjoy your fresh gluten-free baked goods today, tomorrow or several days later. Yummee Yummee offers proven recipes for each baking mix. Mixes are available exclusively at yummeeyummee.com.
# # #
For more information concerning this press release click here for contact information.:


Listen to the Dreamee Dog ...