FAQ - Frequently Asked Questions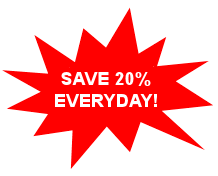 Yummee Yummee has a straight-forward philosophy; the best baked goods you've ever eaten – gluten-free or not.

Our mixes and recipes require no substitutions.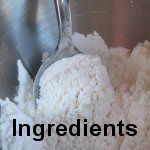 You can be a master gluten-free baker with ease. Our mixes are designed to work with multiple recipes. We do not make an all-purpose gluten-free flour blend because each type of baking demands a different solution. Cookies are not yeast breads, and yeast breads are not muffins. Yummee Yummee has your solution. Using Yummee Yummee's premium baking mixes and recipes, you can enjoy wheat-like taste and texture with the versatility and ease of all-purpose flour.
Back to FAQ List
No. Yummee Yummee recommends using silicone baking mats, rolling pins,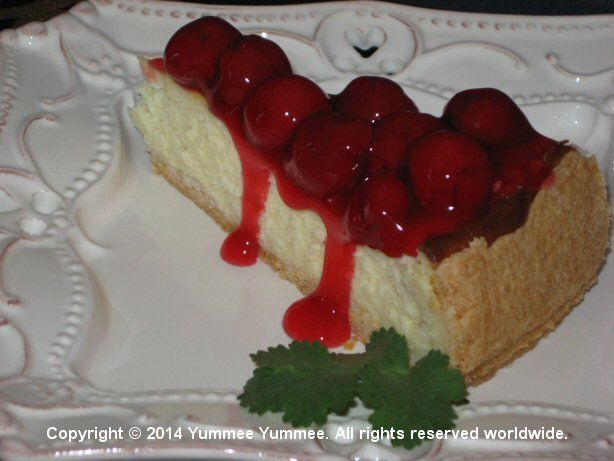 spatulas, and cupcake or muffin liners with our mixes. See our baking hints for details. Gluten-free batter doesn't stick to silicone like it does to other materials. It's about simple and quick preparation. Of course, good non-stick or stainless cupcake, muffin, bread, or cake pans work well for baking. Whichever you use, always make certain you prepare the pans as directed in the recipe, or by manufacturer's recommendation.
Back to FAQ List
Yummee Yummee recommends storing our mixes in a cool dry place.
Back to FAQ List
Yummee Yummee recommends putting all baked goods in airtight containers. Cookies are not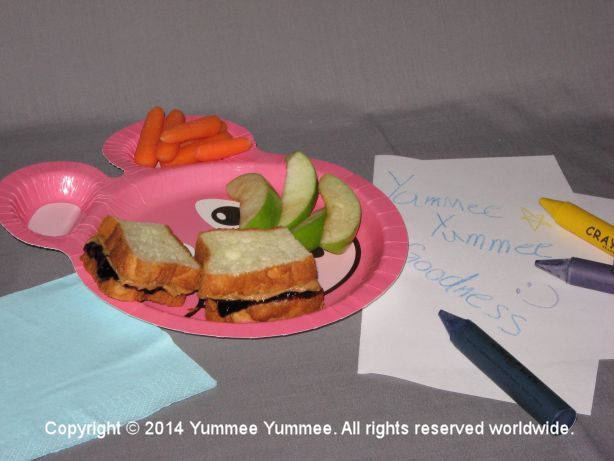 refrigerated. Our cookies stay fresh for at least a week in an air tight container, but they are usually eaten within the week. For other baked goods, it is best to store them in the refrigerator for freshness, especially anything containing fruit. There are no preservatives in our mixes, so most baked items will keep for a couple of days without refrigeration. You can freeze muffins, quick breads, yeast breads, and graham crackers for future enjoyment.
Back to FAQ List
Absolutely! If frozen, we recommend removing the baked goods from the freezer and letting them thaw either in the refrigerator or on the countertop before warming. This keeps the moisture in the baked goods. Take the thawed item and place it on a microwave safe plate. Sprinkle a few drops of water on the item and heat. The next step is easy. Eat and Enjoy!
Back to FAQ List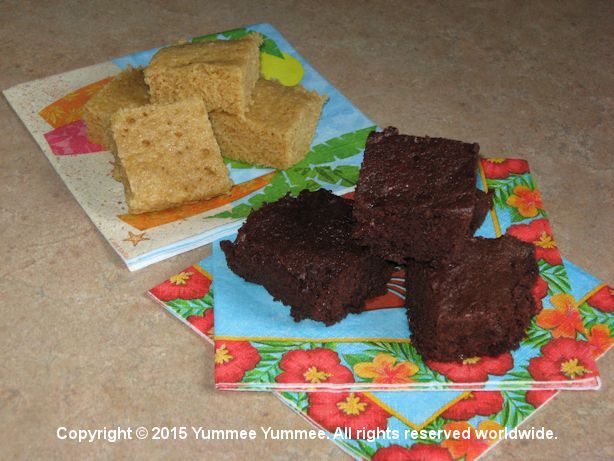 a>
The microwave recipes are free. Click on the recipe image to read, print, or save the recipe.
Back to FAQ List
Yes. In spite of what you may read on the Internet, numerous health agencies have repeatedly stated that microwave cooked food is perfectly safe.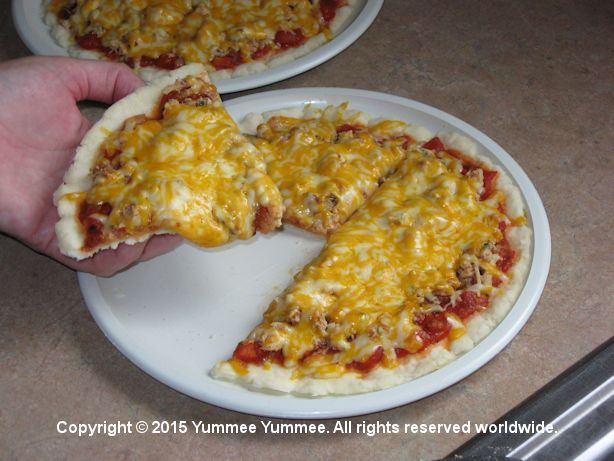 Links are listed below.

World Health Organization
Washington Post News Article
U.S. Food and Drug Administration
Harvard Medical School
USDA

Back to FAQ List
Yummee Yummee mixes are formulated to be used exclusively with our recipes. That's why we provide free recipes for you to review and download from our website for your personal use. We are constantly developing additional recipes and will continue to pass these along to our valued customers. Remember our philosophy: simple, easy, and enjoyable baking to help you save time in the kitchen. We have prepared the mixes and the recipes for you to use. If you choose to use our mixes with other recipes, we cannot guarantee the outcome.

Back to FAQ List
No. Yummee Yummee believes in saving our customers time and money. Our mixes are delivered directly to your doorstep so you don't have to bounce from store-to-store to find your gluten-free products. With our mixes on hand, you go to your pantry and choose what you would like to prepare everyday in your kitchen.
Back to FAQ List
No.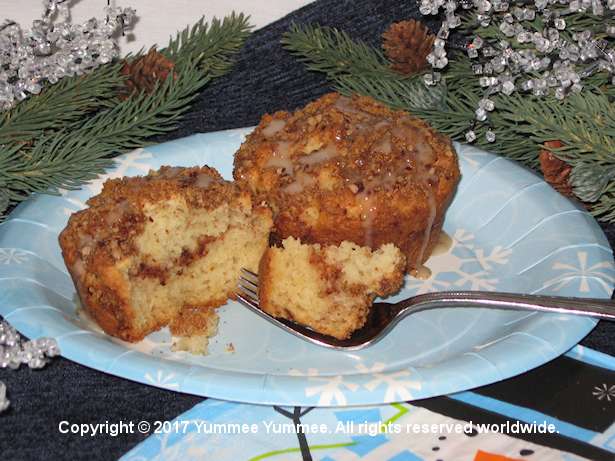 We do not sell premade products. Yummee Yummee is a baking mix company. We are not a bakery. Our baking mixes are the best way for our customers to experience fresh baked, tasty, gluten-free products. Prepackaged products are never the same as homemade and fresh from your oven. Can you smell the cookies baking? As a bonus, there are no preservatives in our mixes. We believe that our products are a much better value for our customers.
Back to FAQ List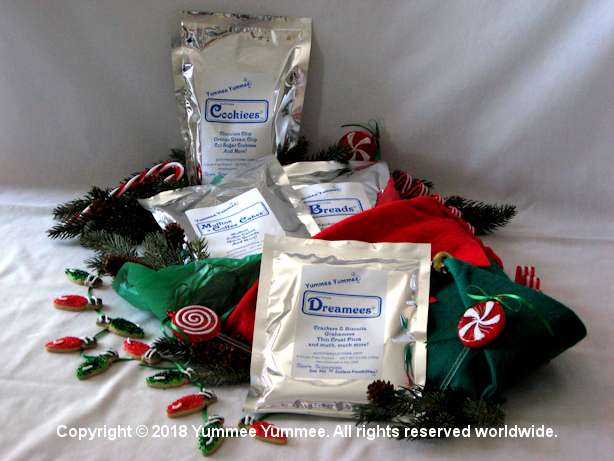 Yes. Yummee Yummee offers a Sample Pack. It is a simple way for you to sample our simply scrumptious mixes and delicious recipes. A Sample Pack of our premium gluten-free baking mixes makes a wonderful gift for that special person on a gluten free diet. It includes 1 Breads mix (15.7 oz.), 1 Muffins & Coffee Cakes mix (14 oz), 1 Cookiees mix (15.3 oz.), and 1 Dreamees mix (5.3 oz.).
Yummee Yummee realizes the need for allergy friendly and restricted diet recipes.

Many of our recipes do include milk products, but we have developed alternatives that use no milk, egg, tree nut, or soy products. Ingredient substitution charts are available for Savory Dreamees and Muffins & Coffee Cakes recipes on the bottom of the recipe pages. All other ingredient changes are listed within individual recipes.
Back to FAQ List
Eggs and dairy simply make the best possible result in baking. Not everyone on a gluten free diet requires a dairy and egg-free diet as well.
Back to FAQ List
There are many reasons baked goods don't look like the picture. Usually, it's the wrong type of ingredient.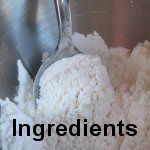 Yummee Yummee has developed our premium baking mixes to use real, fresh ingredients - milk, butter, eggs, sour cream, and pure cane sugar. For example, store brand sugar isn't always cane sugar. It comes from sugar beets, or other plants. Beet sugar can have a very different result in baked goods. Using vegetable (soybean) oil instead of canola oil can result in both an unsatisfactory and poorly raised baked good. Yummee Yummee recommends using the type of ingredient specified in the recipe. We have made some recipes over and over again because they are family favorites. When we have used the wrong type of ingredient, we weren't happy with the result.
Back to FAQ List
Yes! It absolutely matters what type of sugar you use. Yummee Yummee always uses C & H Cane Sugar when developing recipes for our valued customers. Pure cane sugar is essential for a properly raised and flavored baked good. Store brand sugars are usually made with beet sugar. When using brown sugar, look for a brand that uses pure cane sugar as well. Some brown sugars are beet sugar that have had cane sugar molasses painted onto the granulated form of beet sugar.
Don't believe it? That's okay. Here's an article for you to read. It's an oldie, but a goodie.
Back to FAQ List
We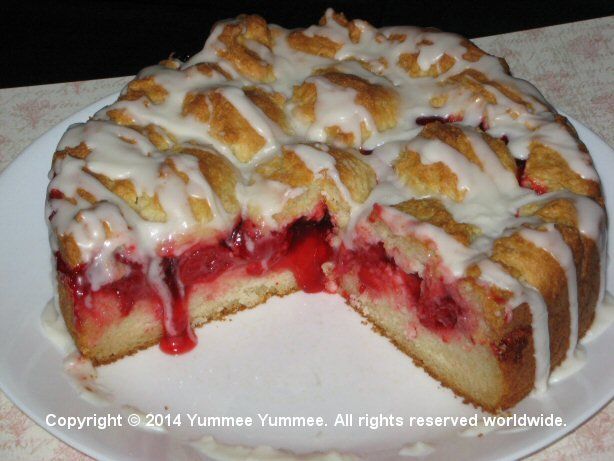 do not recommend using any other baking mixes or any all-purpose gluten-free flour blends. Our recipes have been developed to work exclusively with our mixes. If you use other mixes or any all-purpose gluten-free flour blends, your results will not meet Yummee Yummee standards for taste and texture.
Back to FAQ List
Every Yummee Yummee premium baking mix is uniquely designed to make multiple recipes. The yield varies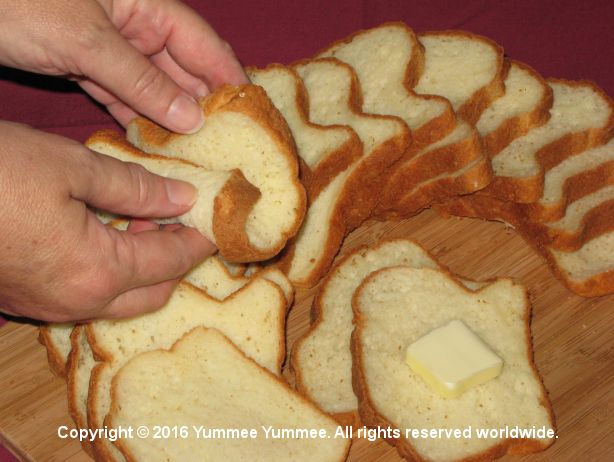 for each recipe. Our mixes are NOT single-purpose baking mixes. Servings or quantities are in each recipe. You select the recipes you want to make with your Yummee Yummee premium baking mixes. Discover the "Simply Scrumptious - One Mix … Endless Possibilities!"
For example, Yummee Yummee Muffins & Coffee Cakes mix will make between 12 to 18 muffins, one coffee cake, or a quick bread loaf. Our Cookiees mix will make 3 to 5 dozen bakery style cookies. Our extraordinary Breads mix makes one 2-pound or two 1-pound loaves of bread; 12 cinnamon rolls; one 16-inch, three 12-inch, or four 8-inch pizzas; or 32 crescent dinner rolls. Dreamees mix makes 48 to 72 crackers, 9 biscuits, one 12-inch pizza crust, 4 sandwich rolls, or numerous sweet treats.
Back to FAQ List
Yes. You can order a combination of any 3 cases of Yummee Yummee mixes for one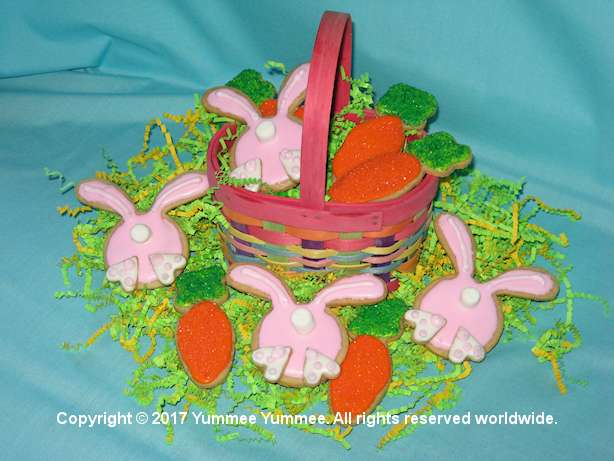 low, flat shipping rate. Share with a friend or stock your pantry and save on shipping costs - only one billing and shipping address are allowed per order. (Our low flat rate shipping is limited to 3 cases of baking mixes.)
Back to FAQ List
We ship to all 50 states and the District of Columbia. We do not ship internationally.

Back to FAQ List
Most new computers already have this software installed. The best way to determine if you have the Adobe Reader software is to try to open any recipe online, or save the recipe to your computer or other device. Once the file is completely downloaded, open the file. If you can read our recipes, you have the Adobe Reader on your computer. Order mixes, pick a recipe, mix, bake, eat, and enjoy!
If the file does not open, you need to download and install the Adobe Reader software. The software is free from Adobe or your app store. If you have a very old computer, more than 10 years old, you may be unable to use the current version of the software. Click here for the Adobe website, or

click on the Adobe Reader graphic to download the Adobe Reader.
Back to FAQ List
Yes. On the back of each mix, you will find Nutrition Facts and ingredients. The FDA, Food and Drug Adminstration, requires this label on all packaged food products. Here's the list of ingredients in each mix.
Back to FAQ List
Yes - even better!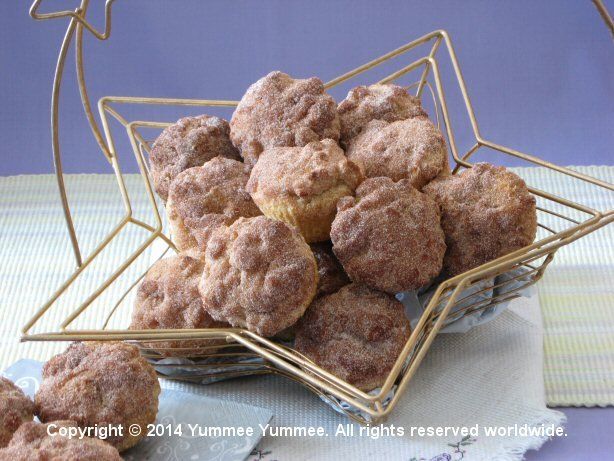 Yummee Yummee is dedicated to the quality and taste of our products. Our photos are very representative of each Yummee Yummee recipe and mix. First and foremost, our photos are not photo-shopped to enhance the image or computer generated. It's a real photo, in focus, and as appealing as possible. We do crop and embed our copyright into the image. Next, every recipe uses our gluten-free mixes - not a wheat-filled product. It's real gluten-free food, made and baked following the recipe, and we eat it! Yummee - that's the best part.
Back to FAQ List
Yummee Yummee only produces gluten-free products, and enforces strict quality controls during the manufacturing process.

We believe in keeping "our" economy growing strong. Therefore, all Yummee Yummee products are manufactured in the United States of America. Dreamee Dog was born on July 4th! See her cute puppy picture on the 'About' page.
Back to FAQ List
In our opinion, extraneous packaging is environmentally wasteful. We don't believe in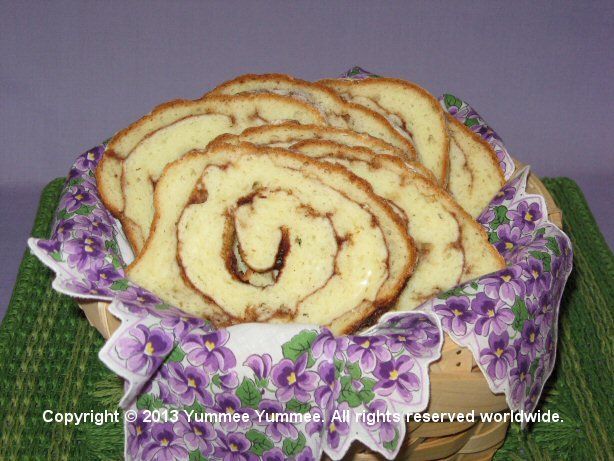 using double packaging, bags inside of boxes. Our current packaging is better for the product. We tested our packaging to withstand climatic variations - extreme heat, freezing cold, moisture, air pressure changes, and drop force. All flours, even gluten-free flours, can absorb odors and moisture without the proper packaging. Our packaging choice protects the product inside for you. We want you to get the best possible baking mix – every time. Our bags store easily in your kitchen pantry.
Back to FAQ List
Our best-by date is always on the back of the package. The date appears as year and month. For example, 2019-01 is a best by date of January 31, 2019. Yummee Yummee has tested mixes well past the best by date without issue. The best by date is intended to guarantee your baking success and the best possible fresh baked goods.
Back to FAQ List
Yummee Yummee is focused on our customers. You are important to us. We want you to be satisfied with each and every order.
As a customer, we ask you to be a responsible consumer. When you receive your shipment, open the package carefully. Review your order, and make certain it is correct. Should you encounter a problem, our preferred communication is email, (click here to email us); but you may call us for customer support for orders or billing issues. Please be specific in detailing the problem.
Our baking mixes are a food item and are non-returnable. This is for your protection, other customers, and our facilities. As such, all sales are final. If an item has been damaged in shipment, you must contact Yummee Yummee within 5 business days of receipt of your order for a resolution. Yummee Yummee reserves the right to replace the damaged item or issue a credit. Prior authorization is required. For additional contact information.
Back to FAQ List

No. We do not store your credit card number.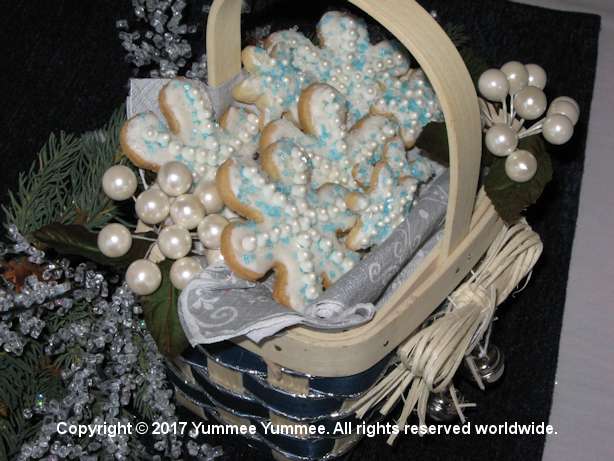 That's why you see the "high security" graphic on our store. The credit card is safely and securely transmitted electronically to the credit card clearing company, (bank), for approval and final processing. The Yummee Yummee Team never sees the complete number - just the last four digits.
In fact, we do not see, or store, the CVV2 number either. (That's the credit card verification value; it's usually on the back of the credit card.) And, we do not see, or store, the card's expiration date. The transaction is verified by the credit card clearing company by matching select information from you. If that information does not match, the transaction is not approved. You will see an error message during the checkout process. You will know your order has been accepted when you receive an order confirmation email from Yummee Yummee. If you do not see an email once you place an order, please check your spam filter and spam inbox. Lastly, your credit card is not billed until your order ships.
Back to FAQ List
This is delicious! May I have your recipe?
This is wonderful! It's so moist! It can't be gluten-free!
Yummee Yummee Stuff!!!!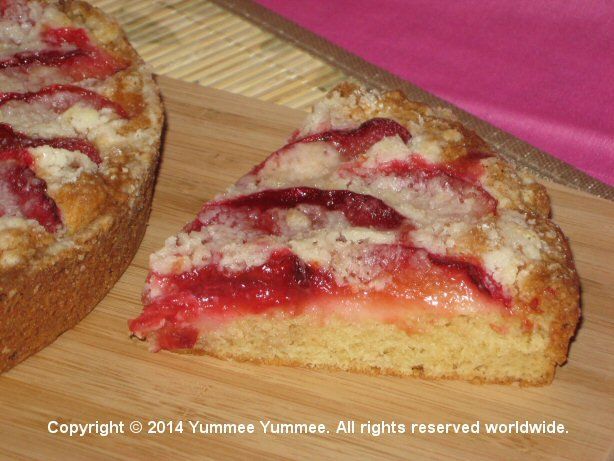 I've got to tell my friend about this food, she's on a gluten-free diet.
This is so good! It doesn't taste gluten-free!
Thanks for sharing a muffin! That was the best thing I have ever eaten! And, I'm not gluten-free.
Can I have another piece?
I knew it had to be gluten-free because you were eating it, but WOW!!!
This was so good, could you leave the leftovers? We'll eat them.
Could you make your Chicken Flavored Chickees Crackers for our party?
These are really good cookies! What did you use - regular cookie dough?
These cookies are so good you don't realize how many you've eaten. They melt in your mouth.
The stores were out-of-stock again! Thank goodness for Yummee Yummee!
Man, your Cookiees mix makes a lot of cookiees!
I cried the first time I had your Gourmet Thick Crust Pizza. It was just like the pizza at my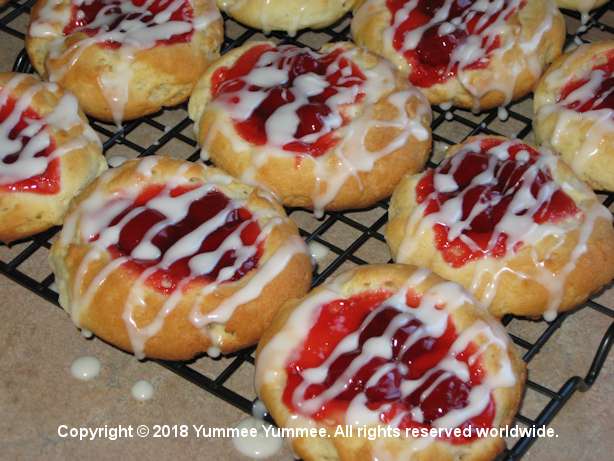 favorite pizzeria. I haven't had their pizza in 10 years.
AMAZING!
Cheesecake with a graham cracker crust! I haven't had that in years.
I can't imagine my kitchen without Yummee Yummee Dreamees mix. I use it a minimum of 3 or 4 times a week. It's easy and my entire family loves it.
"It's woofolicious!", barks Dreamee Dog.
Back to FAQ List
It's easy! Look for any "SHOP & SAVE" button. It is a direct link to our online store. Just click on the button and start shopping for your gluten-free Yummeeness!

Back to FAQ List
No. It puts our company in a difficult position of determining who gets free product, and who does not. Our policy is simple. In order to be fair to everyone, Yummee Yummee does not provide free samples to any organization, support group, fundraiser, large group meeting, blogger, or review site. Some review sites demand payment for product reviews. This is clearly unfair to consumers and is blatantly biased product information.
Back to FAQ List
Here's the link to our contact information. Our preferred communication is email.
Back to FAQ List
Sign Me Up!
Tell me about
new products, recipes, special offers, and fun for kids
.