It's National Bake Week -
Bake a Gluten-Free Coffeecake!
Tucson, Ariz. - April 1, 2011 - Yummee Yummee baking mix recipes are incredibly easy to prepare and delightfully flavorful. Gluten-free baking is a snap. Make, bake and eat crackers, biscuits, breads, cinnamon rolls, dinner rolls, muffins, piecrusts, cookies, cookie bars, pizza crusts and coffeecakes. You can celebrate National Bake Week and Coffeecake Day - gluten-free.
Coffeecake is perfect for breakfast or brunch, and it's a soothing dessert after a busy day. Add ice cream or whipped cream and you have out of this world decadent dessert. Our coffeecakes are so tasty additional toppings are not necessary. Fruit, cream cheese, streusel and gluten-free describes our Cherry Cream Cheese Streusel Coffee Cake. Our recipe is an updated version with fantastic results. There's no need to lower your expectations because it's a gluten-free recipe. Gluten-free is Yummee Yummee's specialty.
With Yummee Yummee's gluten-free Cherry Cream Cheese Streusel Coffee Cake you can celebrate National Bake Week and Coffee Cake Day on April 7th. It really is gluten-free. Do you live a time challenged lifestyle? Try our Overnight Coffee Cake. Make the night before and bake in the morning for oven fresh coffeecake. Even if you are not a coffeecake fan you can use our baking mix and free online recipes for simply scrumptious muffins. Our baked goods freeze well and easily reheat in the microwave. Allergy friendly variations are possible - dairy and egg free. Most gluten-free baking mixes are best immediately after baking. Not Yummee Yummee baking mixes! Our baked products taste even better the day after they are baked. Promise! Don't do without this year because you are gluten-free. Celebrate Coffeecake Day with our Cherry Cream Cheese Streusel Coffee Cake, Overnight Coffee Cake or muffins. It's Yummee Yummee gluten-free.
Yummee Yummee gluten-free baking mixes start at $3.99 per single mix. Save 10% when you buy a sample pack of mixes. For $9.99, purchase our Customer's Choice 2 Pack - 1 Dreamees mix and a second mix of your choice. It's the Yummee Yummee way to enjoy the next generation of versatile gluten-free products.
Web site: http://www.yummeeyummee.com
Online store: http://www.yummeeyummee.com/store/index.html
Yummee Yummee Videos: http://www.yummeeyummee.com/ddvideos.html
TheDreameeDog Channel: http://www.youtube.com/user/thedreameedog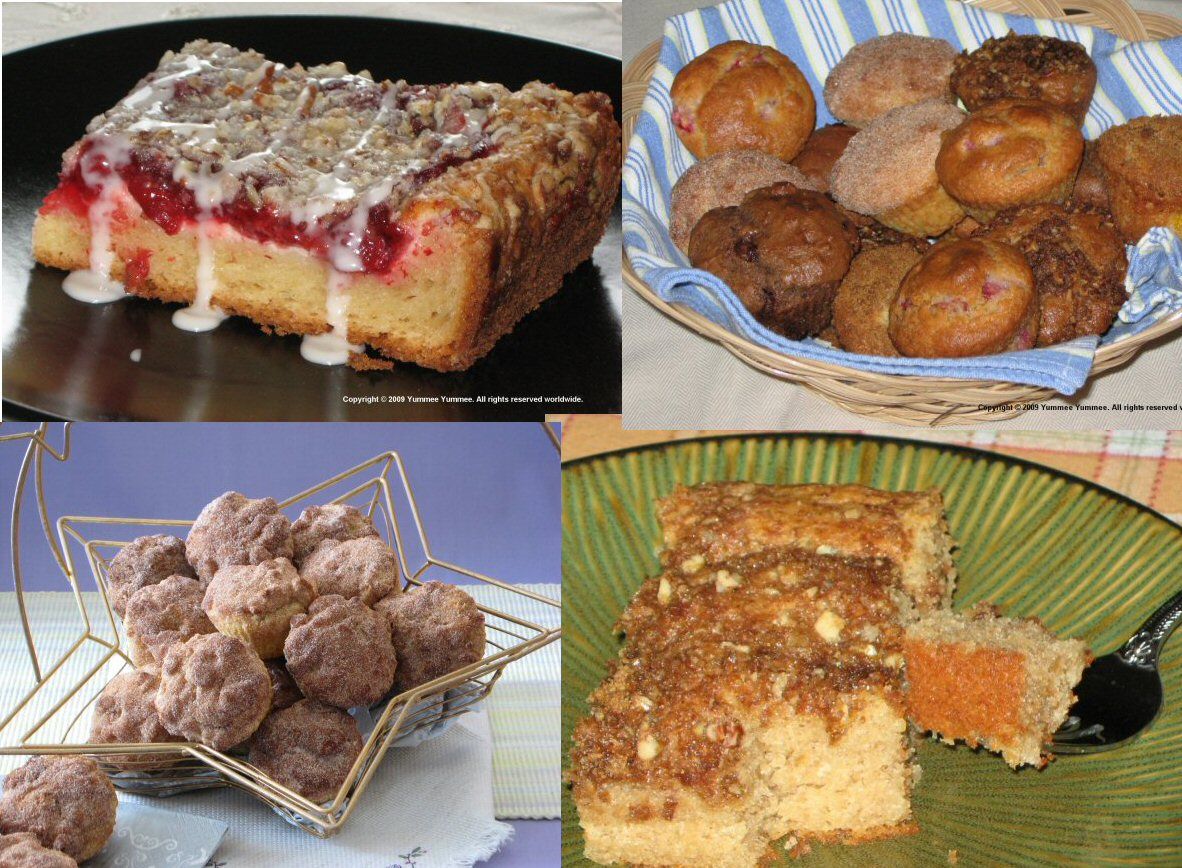 Gluten-Free Muffins & Coffeecakes
ABOUT: Yummee Yummee produces 4 unique and highly flexible gluten-free baking mixes. They are: Dreamees, Muffins & Coffee Cakes, Breads and Cookiees. Our baking mixes offer remarkable taste, gluten-like texture and incredible value for gluten-free bakers. Unlike most single purpose baking mixes, Yummee Yummee's mixes give the baker complete control of what to bake and enjoy. For example, Breads mix makes scrumptious sandwich bread, dinner rolls, artisan breads or cinnamon rolls, while our Cookiees mix makes easy cut sugar, double chocolate delights or chocolate chip cookies. The baker varies the fresh ingredients for each recipe with the mix. It's about simplicity. Prepare our Muffins & Coffee Cakes mix the day before and bake the next morning for warm oven-fresh overnight coffeecake. Enjoy your fresh gluten-free baked goods today, tomorrow or several days later. Yummee Yummee offers proven recipes for each baking mix. Mixes are available exclusively at yummeeyummee.com.
# # #
For more information concerning this press release click here for contact information.:


Listen to the Dreamee Dog ...