Turkey Dressing - Hold the Gluten
Tucson, Ariz. - November 10, 2011 – Turkey, dressing, potatoes, yams, and bread are a few of the Thanksgiving essentials served each year. Dressing, or stuffing, whichever you prefer, comes in many combinations: bread, cornbread, apple pecan, cranberry, and the most unique – oyster dressing. Why not try something different this year? Make Yummee Yummee's Brown Rice Turkey Dressing, a moist, flavorful, savory complement to your Thanksgiving feast. This recipe is nutritious, simple to make, easy on your pocket book, and gluten-free. All of your guests will indulge!
Don't waste money buying expensive gluten-free bread to make soggy dressing. Do you even have sage and poultry seasoning in your pantry? It can be a delicate balance between extra crunchy bread dressing and time to call the fire department. Make your Thanksgiving feast safe and gluten-free with this recipe for Brown Rice Turkey Dressing from Yummee Yummee. Timeless flavors of onion, garlic, celery, and carrots combine with turkey giblets, ground pork, and brown rice to complement the focal point of this feast – the roasted turkey. Take a bow and enjoy the applause from your feasting crowd.
Save cranberries for sauce, enjoy apples and pecans in your pie, and eat your bread as a dinner roll loaded with butter. With this recipe, no oysters were harmed. The bread is safely stored on the grocer's shelf. The fire department was not dispatched to your house. And, you can use the money saved on gluten-free bread to shop on Black Friday.
Brown Rice Turkey Dressing is a savory, nutritious, gluten-free recipe. This recipe is free at Yummee Yummee's website. It's Thanksgiving. Enjoy laughter around your table with family and friends. Indulge your cravings and enjoy that second piece of pumpkin pie, almost guilt-free!
Brown Rice Turkey Dressing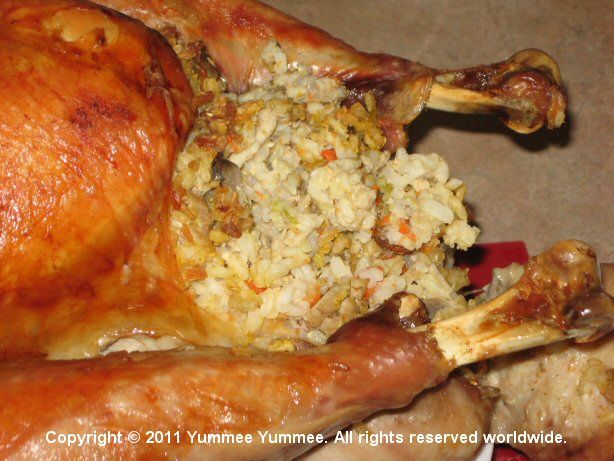 ABOUT: Yummee Yummee produces 4 unique and highly versatile gluten-free baking mixes - Dreamees, Muffins & Coffee Cakes, Breads, and Cookiees. Make artisan crackers and biscuits; fruit filled muffins, coffeecakes, and quick breads; soft sandwich and artisan breads, pizza, and cinnamon rolls; chip-filled cookies, easy-to-make bars, and sugary delights. Our baking mixes offer remarkable taste, gluten-like texture, and incredible value for gluten-free bakers. Unlike most single purpose baking mixes, Yummee Yummee gives the baker complete control. You decide what to bake and enjoy. Mixes are available exclusively at yummeeyummee.com.
# # #
For more information concerning this press release click here for contact information.:


Listen to the Dreamee Dog ...