Savory Gluten-Free Bread Recipes
Enjoy savory gourmet gluten-free recipes. Using Yummee Yummee's premium Breads mix, make

soft gluten-free savory breads, dinner rolls, or pizza in an hour. Gluten-free bread baking is easy. Our dairy-free substitutes require no change in preparation or baking time.
Discover your "ONE MIX . . . Endless Possibilities!" Stop dreaming about soft bread and start eating the best gluten-free bread from Yummee Yummee today.
Enjoy pizza again. Make four 8 inch pizzas, two 12 inch pizzas, or one 16 inch pizza with our Gourmet Thick Crust Pizza recipe. Add your favorite toppings.

Watch our video to see how easy it is to make. Ultimate Baked Potato Rolls recipe incorporates real mashed potatoes. Add some butter, watch it melt, and enjoy. Make cloverleaf and crescent dinner rolls, too. Try our Italian Bread recipe for something a little different. This gluten-free artisan bread features Italian spices. Our Breads mix has no preservatives. You add the fresh ingredients to the mix. Do you know what's in your frozen bread from the store?

Traditional Challah is always dairy-free. Our recipe for Celebration Challah is also gluten-free. The result is a soft bread that is easy to slice, or pull apart to share.
Thanksgiving isn't the same without warm dinner rolls and melting butter. Make Jumbo Dinner Rolls and enjoy. Your guests will never suspect they are gluten-free and dairy-free. New York, St. Louis, or Chicago? Everyone has their favorite. Enjoy real Chicago Style Deep Dish Pizza. You will need a fork to eat this pie.

This recipe is a tribute to Chicago's famous pizzerias. Enjoy! Our Southwest Bread recipe has a mild flavor profile. Cilantro, chili powder, cumin, tomatoes, green onions, and cheeses create a simply scrumptious appetizer bread. Mamie's Crescent Rolls were a family favorite. Mamie loved to cook for her family on holidays. Her crescent rolls were simply delicious. Now, you can enjoy these delicate morsels

with your feast.

Make bruschetta with our Three Cheese Bread recipe. Slice the bread; cut each slice into halves or quarters; brush with garlic butter; top with fresh diced tomatoes, Mozzarella cheese, and your choice of fresh herbs; and bake a few minutes in the oven. Plan your next gluten-free party with this recipe as a centerpiece. Do you like pizza? Try our recipe for Pizza Bread. This batter bread is easy to make and versatile to serve. Use all natural ingredients in this recipe for Honey White Bread - milk, eggs, and sweet honey. Savor the aroma of fresh baked yeast bread wafting though your kitchen in about an hour. Holiday meals are about family. Don't forget the Fantan Dinner Rolls. Use our basic bread recipe and technique to create these delightfully delicious rolls. Pull apart, add the butter, watch it melt, and enjoy the first bite.
Premium Gluten-Free Bread in an Hour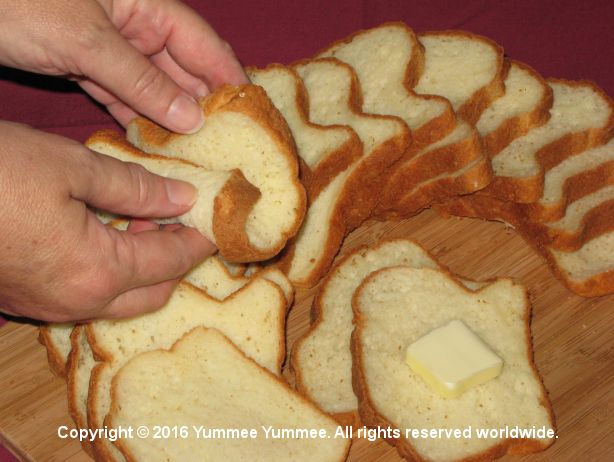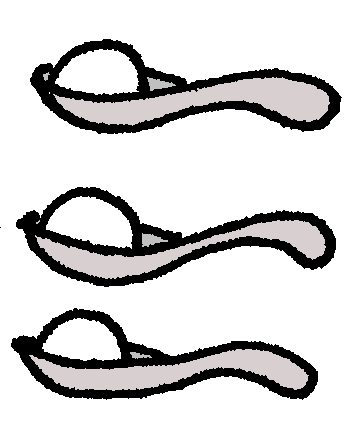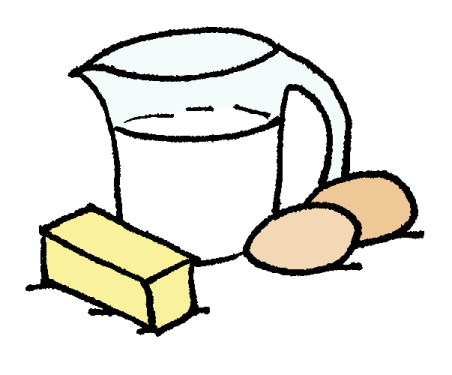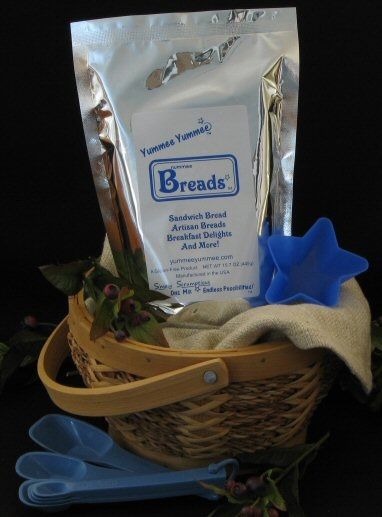 Ancient bakers baked pan-free. Use your Rustic Bread Loaves as a

holiday centerpiece. Slice the loaf or pull it apart. Enjoy your gluten-free bread shaped by hand - no loaf pan required. Fresh, warm, soft bread from your oven in about an hour. A 10 minute prep, 15 to 20 minute rise, and bake 35 minutes.

One taste and you will understand why it's called Scrumptious Sandwich Bread. BLT anyone? Our Hamburger Buns recipe makes a dozen soft, gourmet buns. Load it up with toppings. Our buns are good to the last bite. Make hot dog buns with the same recipe. Mix and match for your barbecue.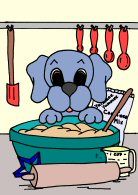 Make 6 hamburger buns and 6 hot dog buns, or 6 buns and a Rustic Loaf, or a small sandwich loaf, or bread sticks, or dinner rolls, or . . . your possibilities are endless with Yummee Yummee. Try our new gluten-free recipe for Pizza lovers. Make "3" – 12 inch pizza crusts for $10. Purchase a case of Breads mix and get a real deal. Make 12 pizza crusts for only $2.65 per pizza crust. Let's have a party!
It's time you discovered Yummee Yummee premium gluten-free baking mixes and recipes. Every recipe is Yummee Yummee good and will please everyone - gluten-free or not. Yummee Yummee gluten-free bread is easy to make and full of flavors - Sweet or Savory.
"Stop Dreaming . . . Start Eating!"
Read, print, or save our FREE Yummee Yummee recipes. It's easy. Click on the recipe image or description for the recipe in a PDF format. Use the Adobe Acrobat Reader to open, read, and print the recipes. Check our FAQ page for more information and details about the Adobe Acrobat Reader.
Add Yummee Yummee goodness to your pantry. Select a recipe to make, bake, eat, and enjoy - today! Enjoy Yummee Yummee's SWEET and SAVORY recipes.
Discover your . . . "ONE MIX . . . Endless Possibilities!"
Sign Me Up! Tell me about new products, recipes, special offers, and fun for kids.