Gluten-Free Cookie Recipes for Everyday
Cookies are great anytime, not just the holidays. Yummee Yummee gluten-free cookie recipes for

everyday make chip-filled, snickerdoodles, hot chocolate fudge, brown sugar puffs, and more. Each recipe makes cookies by the dozens. With Yummee Yummee's premium Cookiees mix, baking fresh, great tasting, homemade, gluten-free cookies is easy.
Discover your "ONE MIX . . . Endless Possibilities!"
Chocolate Chip cookies are wonderful fresh from the oven. What's better than warm, gooey, chocolate chips? Cookies dunked in milk, of course! This is a fun and easy recipe to make and bake.

Do you like dark chocolate? Our Dark Chocolate Marshmallow cookies create a magical blend of dark chocolate and marshmallow in every bite. Try them on a cold day with hot chocolate or a nice cup of hot tea. Bake the best gluten-free snickerdoodles for your family and friends. Yummee Yummee's Snickerdoodles recipe creates a perfect crinkled top with just the right flavors of sugar and cinnamon. Enjoy! They make a perfect gluten-free gift for the holidays. Do you have memories of long ago hot summer days eating orange, ice cream confections? Or, sharing a big bowl of orange sherbet with a friend? Then, our Orange Chip cookies are a must try recipe!
The gentle flavor of vanilla, pecans, brown sugar, and vanilla pudding combine to create these tasty treats. Vanilla Pecan cookies are a great after school snack or lunch time treat. Fans of hot chocolate and fudge will devour this cookie recipe - Hot Chocolate Fudge. With your first bite you taste hot chocolate, but as you chew this little chocolate morsel the chocolate fudge assaults the taste buds with a wonderful fudge flavor. Yummee Yummee created this recipe for chocolate lovers. The hard part was naming the recipe.

Our Molasses Spice cookies are very flavorful. Enjoy the flavors of molasses, cinnamon, allspice, nutmeg, and ginger. Peanut Butter Chip cookies are made with a twist. In our recipe, we combine creamy peanut butter and chocolate chips. A simple cookie recipe to make, bake, eat, and share. With Yummee Yummee's Cookiees mix, you can make any recipe on this page. Why pay more for less with other gluten-free baking mixes?
This cookie recipe is much quicker to make than a real lemon cheesecake. Lemon Cheesecake cookies make great lunch snacks, school treats, or for a special luncheon event. Enjoy the taste of lemon cheesecake in a perfect gluten-free cookie. Cranberries are good for you, right? So, we put them in a cookie with dark chocolate and pecans - Dark Chocolate Cranberry Nut. The flavors balance perfectly in this healthy gluten-free cookie recipe. Yummee Yummee's Sugardoodles are the best, soft, sugar cookie. They are good days later when stored in an airtight container. Don't worry about them going stale. They will NOT last that long. Want a very soft slightly chewy cookie that melts in your mouth? Try our Brown Sugar Puffs recipe. A gentle drizzle of Brown Sugar Frosting over the top of the cookie creates a delicious flavor combination. A great treat for a ladies luncheon or formal family gathering. Watch them disappear. Even the gluten gobblers will eat these cookies.
One of the Yummee Yummee founders loves chocolate. When you bake our Double Chocolate cookies, they disappear quickly. The recipe makes 4 dozen large cookies. Too many to eat? Simply freeze the extras. Cinnamon Snaps are very dunkable cookies.

Warm up the apple cider! Dunk this cookiee into that warm elixir for a gluten-free taste of fall and winter. The perfect cookiee for a small gathering of friends or an after school snack for your favorite students. Make oatmeal cookies with chocolate chips. Oatmeal Chocolate Chip cookies are great anytime. This recipe makes at least three dozen large 3 inch cookies. Does your gluten-free cookies mix make that many? Some gluten-free cookie recipes use pudding as a binder and dough enhancer. In Daddee's Favorite recipe, the pudding adds flavor, texture, and taste. The chocolate flavors of the pudding and chips combine with the brown sugar to create a soft, chewable cookie - definitely Yummee Yummee. Plenty to share with family and friends as the recipe makes about 60 cookies.
Bunnee Mint cookies are great for an Easter luncheon or anytime. If someone you love enjoys the flavor of mint, you need this recipe. Not just a spring time cookie, they are great anytime during the winter holidays. Maple Spiced Crinkles blend spices and maple flavor in a delightful little cookie. The recipe makes 4 to 5 dozen cookies for you to enjoy or share. Do you live with a chocoholic? If so, make Chocolate Chunk cookies to satisfy their craving. Chunks of chocolate in every bite. What's not to like? Watch how fast 4 dozen gluten-free cookies can disappear. These cookies are the perfect holiday blend of rich white chocolate and peppermint. Santa will definitely stop for these gluten-free White Chocolate Peppermint Cookies. Make, bake, eat, and enjoy our gluten-free cookie recipes.
Sweet dreams are made of Yummee Yummee Cookiees. Maple Bacon Nut Cranberry Cookies are a dream come true with the flavors of cinnamon, maple, pecans, bacon, and sweet cranberries. Patriotic Pudding Cookies are simple to make. A combination of candy coated chocolate pieces and sprinkles make a kid-friendly snack. Hot chocolate with marshmallows is a winter time treat. Enjoy that flavor in these delicious Hot Cocoa Cookies. Eat the ears first! Easter Bunny Cookies are like a cookie with a rich chocolate candy frosting in every bite. Change up your chocolates for any holiday. Snowmen for winter?

It's time you discovered Yummee Yummee premium gluten-free baking mixes and recipes. Every recipe is Yummee Yummee good and will please everyone - gluten-free or not. Bake what you want to eat, not what's in the bag or box. Yummee Yummee gluten-free cookies are easy to make for Everyday and Special Occasions.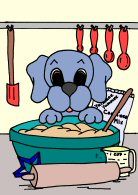 "Stop Dreaming . . . Start Eating!"
Read, print, or save our FREE Yummee Yummee recipes. It's easy. Click on the recipe image or description for the recipe in a PDF format. Use the Adobe Acrobat Reader to open, read, and print the recipes. Check our FAQ page for more information and details about the Adobe Acrobat Reader.
Discover your "ONE MIX . . . Endless Possibilities!"