Gluten-Free Specialty Cookie Recipes
Holidays make special memories - Valentine's Day, Easter, Halloween, Thanksgiving, Christmas ...

With Yummee Yummee's Specialty Cookies recipes, make exraordinary memories - witches' fingers, giant gingerbread men or women, kolaches for a bridal shower ... your possibilities are endless. Our gluten-free cookie recipes create delicate, decadent, delicious cookies by the dozens. Make any recipe on this page with Yummee Yummee's Cookiees mix. Bake like a professional. Make, bake, eat, and enjoy your chocolate birthday cake. Blow out the candles. Taste the Yummee Yummee difference. Happy Birthday!
Discover your "ONE MIX . . . Endless Possibilities!"
Every nationality and culture has their favorite dessert recipe. Kolache Cookies are of Czech Slovak origin. You can see why they are considered wedding desserts. Our recipe is gluten-free and very Yummee Yummee. Cake from a Cookiees mix? That's not possible! It is, and it is delicious. This recipe, Fruit Cocktail Cake, is dairy-free. As much as we like cookies at Yummee Yummee a good soft, moist, cake is a nice treat - easy to make, too! Cut out cookies are fun to make and decorate. Try our Chocolate Cut Out cookie recipe. You can even make sandwich cookies if you want. Use our Sandwich Cookie Filling recipe to make gluten-free sandwich cookies. Giant Gingerbread Man is a press in cookie. It does require a special cookie pan, but they are so much fun to make, bake, and decorate. The Yummee Yummee test kitchen made a man and woman from our recipe. They were delicious.
They were delicious. Cookie bars are a great treat and very easy to make.

You must try our Apricot Bars recipe. In the gluten-free world, Yummee Yummee Cookiees mix makes the best spritz cookies. You can quickly make dozens of our Simple Spritz fun shaped cookies. No winter holiday required! Make the recipe and add the dough to your cookie press.

There's no need to grease the cookie sheets or the cookie press. Do NOT chill our cookie dough. It's mix, press, bake, and decorate. Talk about a perfect gift for your gluten-free friends. Order today and get baking. Yummee Yummee is a big fan of Halloween. Every one can be a kid again. Get your hands messy with Wicked Witches' Fingers. Make 'em big, fat, thin, or crooked. Get creepy with food coloring gels. Are you nuts about nuts, especially pecans? Here's a taste of the South with a gluten-free flare. Pecan Praline Bars are quick and simple to make - a go to recipe when you need a quick dessert. Don't miss out on a taste of the South, but y'all need to order our Cookiees mix.
Decorated or not, this is a delicious recipe. You can skip the decorating fun and eat them plain. Try our Easy Cut Out Sugar cookies recipe.

How fancy can you decorate? Halloween decorating tips and more ideas are on our Free & Fun page. Gingerbread is a classic Christmas treat. Make our Gingerbread Cookies for your special holiday event. Decorate your gingerbread cookies as you like and make some special memories this holiday season. With our Cookiees mix, you can easly make Slice and Bake cookies. Mix the cookie dough; roll into logs and refrigerate for an hour. Slice and bake your cookies. The sprinkles are optional. Cherry Cheesecake Bars take a bit more time than some of our other bar recipes, but they are well worth the effort. The cream cheese and cherry pie filling combine for a taste of cheesecake in every bite.
A good frosting makes the cake. Add our Fudgee Cocoa Frosting to our Fudgee Chocolate Velvet Cake recipe for a phenomenal taste. This cake is so good you could eat it without frosting. Our chocolate cake recipe is a great treat for birthday, holiday, or family dessert. Fudgee Chocolate Velvet Cake is a very Yummee Yummee recipe. Every bite is moist and soft with a perfect cake crumb. One Cookiees mix makes two layers. Why buy two cake mixes to make two layers? Save the money for a nice birthday gift! You don't have to make witches' fingers. You can use any cookie pan with our Cookie Pan Sugar Cookies recipe. Add your very own creative spark and decorating skills to your pan cookies. Sandwich cookies are yummee! Make the Sandwich Cookie Filing recipe with our Chocolate Cut Out cookies. The results taste like a very famous sandwich cookie that everyone likes to dunk in milk. Hint: the cookie's name is only 4 letters.
Chocolate Cherry Apricot Bars are bakery perfection. Sweet cherries, Turkish apricots, and chocolate chips perfectly accent these easy to make bars. Do you love chocolate? Decadent doesn't begin to describe these luscious brownies. Top a brownie with ice cream, hot fudge, and chopped pecans for a rich, restaurant-inspired dessert with these Double Chocolate Pecan Brownies. Chocolate bunnies in the cake. Chocolate bunnies in the frosting. Chocolate bunnies as decoration. Chocolate bunnies are multiplying . . . like, well, you get the idea . . . in this recipe for Milk Chocolate Easter Bunny Cake. Simple ingredients make a spectacular dessert with Mom's Pound Cake. Make sure to use pure cane sugar for best results. Use this recipe for delightful desserts such as strawberry shortcake.

It's time you discovered Yummee Yummee premium gluten-free baking mixes and recipes.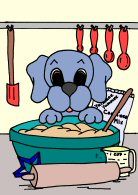 Every recipe is Yummee Yummee good and will please everyone - gluten-free or not. Bake what you want to eat, not what's in the bag or box. Yummee Yummee gluten-free cookies are easy to make for Everyday and Special Occasions.
"Stop Dreaming . . . Start Eating!"
Read, print, or save our FREE Yummee Yummee recipes. It's easy. Click on the recipe image or description for the recipe in a PDF format. Use the Adobe Acrobat Reader to open, read, and print the recipes. Check our FAQ page for more information and details about the Adobe Acrobat Reader.
Discover your "ONE MIX . . . Endless Possibilities!"