Gluten-Free Coffeecakes, Quick Breads & Cakes
Make coffeecakes, quick breads, or cakes from Yummee Yummee Muffins & Coffee Cakes mix. Our recipes are

great for a late brunch, luncheon dessert, or any special occasion. These recipes are simple and easy even for novice bakers. Enjoy Banana Bread, Cherry Coffee Cake, Amish Mini Sugar Cakes, yeast-free Cinnamon Rolls, and a Carrot Cake with Honey Cream Cheese Frosting.
Discover your "ONE MIX . . . Endless Possibilities!" Yummee Yummee premium gluten-free baking mixes and recipes create baked goods that taste better than your favorite bakery - gluten-free or not.
Every child loves Banana Bread. This dairy-free bread is quick and easy. Cherry Coffee Cake is an incredibly simple recipe. Spread most of the batter into the pan, top with a can of pie filling and the remaining batter, bake, and enjoy. Do you enjoy a lazy, ease-into-the-day weekend morning? There's no early morning baking frenzy with this Overnight Coffee Cake recipe. Make the night before, place in the refrigerator, and bake when you're ready. Sip your morning coffee while the coffeecake bakes and enjoy the aroma. It's not lazy! It's smart! The taste is fabulous! Succulent fresh blackberry jewels accent this moist coffee cake and the sugary sweet streusel. Our recipe for Blackberry Buckle is both a dessert and breakfast treat. Substitute blackberries with blueberries for a summer potluck specialty.
Our Amish Mini Sugar Cakes recipe is a favorite afterschool treat. Make a double batch as these disappear rapidly. Top 'O the morning to you.

Celebrate St. Patrick's Day year round with our recipe for Irish Soda Bread. This gourmet quick bread features cranberries, raisins, and pecans with accents of caraway, allspice, and nutmeg. Brown Sugar Pumpkin Bread combines the flavors of pumpkin, nutmeg, pecans, and brown sugar. A luscious brown sugar, cream cheese filling is a taste surprise. Yummee Yummee's Muffins & Coffee Cakes mix creates gourmet, gluten-free baked goods. Our Spiral Plum Cake recipe results in a spectacular dessert with carefully arranged sliced, fresh plums. It's edible gluten-free art.

Hide this recipe from the Easter Bunny! This moist and delicious Carrot Cake is loaded with carrots and pecans. It's the surprise special ingredients that make this cake rich and decadent. Honey Cream Cheese Frosting is a burst of palate pleasing flavors. The honey adds a special sweetness to a simple cream cheese frosting recipe.

It is exactly what every carrot cake needs. Why wait until Easter? Zucchini Bread is a classic summer treat from the Midwest. Harvest your garden fresh zucchini and start baking. Our Chocolate Quick Bread recipe is dairy and egg-free. This allergy friendly recipe is decadently rich with chocolate flavor.
Orange Quick Bread is an incredibly versatile recipe. Make it plain, or add chocolate chips, dried cranberries, or pecans. It's your choice, so explore your endless possibilities. Cinnamon Rolls are a Sunday morning favorite. Make this recipe for Brown Sugar Pecan Cinnamon Rolls. These decadent rolls are yeast-free with a delightful bakery-style cream cheese frosting. Pecans and orange juice combine to make this luscious quick bread. Orange Nut Bread is simple to make and wonderful to eat. Celebrate Christmas with Yummee Yummee's recipe for Gingerbread. This recipe makes several small loaves, which are perfect for gift giving to your gluten-free friends. The blend of cinnamon, allspice, nutmeg, molasses, and, of course, ginger are well balanced for a moist and flavorful quick bread.
Have some fun in your kitchen with the kids. Make whoopie pies! The blend of cinnamon, allspice, nutmeg, molasses, and ginger make our Gingerbread Whoopie Pies a holiday favorite.

Add our Orange Cream Cheese Filling for an extra special touch. Orange Quick Bread Brunch Tray is an incredibly versatile recipe. Make it plain, add chocolate chips, dried cranberries, and pecans. It's your choice, so explore your endless possibilities. Orange Cranberry Nut Bread is a simply scrumptious recipe. The flavors of orange, sweet cranberries, and pecans blend perfectly with the Orange Cream Cheese Spread.
Orange Chocolate Chip Bread blends the flavors of orange and chocolate. You can savor this delightful flavor combination any time. Cherry Cream Cheese Coffee Cake is a baker's delight. Cherries, cream cheese, vanilla, pecans, powdered sugar drizzle, and Yummee Yummee's Muffins & Coffee Cakes mix combine to create a dessert or breakfast feast. Our mixes are time saving and convenient. Mississippi Apple Pie Coffee Cake was designed by a smart baker.

Use your 13 x 9 inch baking pan to both mix and bake this quick coffee cake for a delicious morning breakfast. Serve our Brown Sugar Crumb Cake for your next family gathering. No one will know this rich, decadent cake is gluten-free.
Top your Brown Sugar Crumb Cake with Brown Sugar Frosting. This stove top frosting is scrumptious when served over any of our Yummee Yummee sweets. Bake our Fudgee Chocolate Velvet Cake in the shape of a maple leaf and top with this frosting and pecan halves; you need a Cookiees mix for this cake recipe. Apple Pie Nut Coffee Cake is both gluten-free and dairy-free. This coffee cake is made with apple juice, tart apples, pecans, and sweet bakery spices. Nectarines are the ideal summer fruit to feature in this dessert. Spiral Nectarine Cake is both beautiful and delicious. You can't eat just one piece. Layers of cinnamon, sugar, and pecans are complemented by this scrumptious sweet dough. Bake Blackhawk Cinnamon Coffee Cake today!
It's time you discovered Yummee Yummee premium gluten-free baking mixes and recipes. Every recipe is

Yummee Yummee good and will please everyone - gluten-free or not. Yummee Yummee gluten-free coffeecakes, quick breads, and cakes are easy to make and full of flavors – fruit-filled delights, decadent chocolate, zucchini bread, carrot cake, or banana bread. Look for your childhood favorites and holiday specialties. Do you need dairy or egg free ingredient subsititutions?
"Stop Dreaming . . . Start Eating!"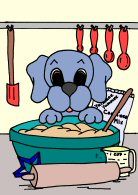 Read, print, or save our FREE Yummee Yummee recipes. It's easy. Click on the recipe image or description for the recipe in a PDF format. Use the Adobe Acrobat Reader to open, read, and print the recipes. Check our FAQ page for more information and details about the Adobe Acrobat Reader.
Add Yummee Yummee goodness to your pantry. Select a recipe to make, bake, eat, and enjoy - today! Enjoy Yummee Yummee's Muffins and Coffeecakes, Quick Breads, & Cake recipes.
Discover your . . . "ONE MIX . . . Endless Possibilities!"