Gluten-Free Muffins - breakfast, snacks, desserts
Muffins are the perfect anytime treat - breakfast, break room, after school, or dessert.

Choose from fruit filled, sugary cinnamon, chocolate, or the flavors of the season. Make them jumbo, standard, or mini. For about the price of 4 frozen muffins at the grocery store, you can make a dozen or more flavorful, soft, moist, fresh-from-the-oven, homemade muffins in about 30 minutes.
Discover your "ONE MIX . . . Endless Possibilities!"
A soft, moist sugar cookie is a wonderful treat. Our recipe for Sugar Cookie Muffins gives you extraordinary bakery flavor in a muffin. The sugary sweet topping is accented with a hint of lemon. Maple Pecan Muffins are bursting with the sweet taste of fall. The flavors of maple and pecan take your taste buds on a trip to watch the leaves turn. Strawberry Muffins are a fruit explosion. This muffin is best enjoyed on a late spring or early summer morning. It's a great way to start the day - gluten-free. If a picture is worth a thousand words, these Coffee Cake Muffins are only saying 2 – "Simply Scrumptious." It's the flavor of a streusel topped coffeecake in a jumbo muffin.
What's better than chocolate? Even more chocolate. One is never enough of these moist, decadent Chocolate Chocolate Chip Muffins. When you eat one of these delicate muffins, you'll be in lemon lover's paradise. Pink Lemonade Muffins are just the right blend of sweet and sour. The lemon perfectly complements the fresh raspberries. The Yummee Yummee Team loves Cinnamon Rolls.

Our Cinnamon Roll Muffins recipe captures the flavors of the perfect bakery cinnamon roll. Don't forget the easy to make microwave cream cheese frosting. Mandarin Orange Muffins are a healthy treat bursting with sweet orange flavor.

The blend of nutmeg, vanilla, sugar, and cinnamon are balanced to tantalize the taste buds with our Cake Donut Muffins. As a breakfast bite, lunch snack, or a special dessert,

they are Yummee any time of the day. Peaches and Cream Muffins are a Southern favorite. The brown sugar and cinnamon in the topping accent the Georgia peach flavor.

Yummee Yummee mixes can make everything from extravagant to classic flavors. A favorite of children and adults alike, Mini Chocolate Chip Muffins are ideal for Christmas morning. You might just be tempted to leave a couple of these out for Santa instead of cookies. Blueberry Muffins are an all-American favorite. Our Blueberry Streusel Muffins feature succulent, fresh blueberries and a choice of two decadent streusels. Yummee!
Don't wait for Halloween to enjoy candied apples. Bake our Candied Apple Muffins – a thick caramelized apple filling encased within a soft muffin. Triple Chocolate Muffins have mini chocolate chips and melted chocolate in the batter. Add the decadent chocolate drizzle for a trifecta of chocolate flavor. Not only does this recipe make a perfect breakfast quick bread surprise for Halloween; it is one of our favorite recipes. Summer fruit is one of the best reasons to bake. Our Stone Fruit Cobbler Muffins have a scrumptious blend of fresh plums, nectarines, and peaches. Basic muffins can be some of the best. Our Streusel Muffins recipe is a simple breakfast treat. This recipe easily transforms into a delightful coffeecake.
The combination of apple, pecans, and spices are palate pleasing and refreshing. Apple Spice Muffins are the perfect addition to coffee, tea, or milk. Relax and enjoy your muffins. Our Raspberries and Cream Muffins recipe makes a large batch of 30 standard sized muffins. These muffins are perfect to share, or keep all for yourself. You could say jumbo muffins are healthy; you only eat one at a time. Apple Pecan Jumbo Muffins feature the flavors of sweet and tart apples, pecans, brown sugar, and cinnamon. Chocolate Orange Streusel Muffins are bursting with chocolate and Mandarin orange flavor. These luscious muffins taste just like the classic Christmas candy. Pour a cup of coffee and enjoy.
Oranges are full of Vitamin C. Chase away the winter sniffles, or just enjoy the flavor of Fresh Clementine Muffins. Chocolate, cherry pie filling, and black cherry juice; what's not to love about these muffins? Just add whipped cream to Black Forest Cherry Muffins for a bite of chocolate heaven. Ultimate Lemon Muffins are bursting with lemon flavor. If you're a lemon lover, these are your muffins. Apple Butter Streusel Muffins taste like a burst of Fall. Bake some today and imagine you're playing in the leaves.
It's time you discovered Yummee Yummee premium gluten-free baking mixes and recipes. Every recipe is

Yummee Yummee good and will please everyone - gluten-free or not. Yummee Yummee gluten-free muffins and coffeecakes are easy to make and full of flavors – fruit-filled delights, decadent chocolate, sugary streusels, childhood favorites, ... even holiday specialties. Do you need dairy or egg free ingredient subsititutions?
"Stop Dreaming . . . Start Eating!"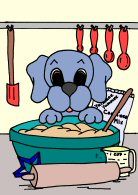 Read, print, or save our FREE Yummee Yummee recipes. It's easy. Click on the recipe image or description for the recipe in a PDF format. Use the Adobe Acrobat Reader to open, read, and print the recipes. Check our FAQ page for more information and details about the Adobe Acrobat Reader.
Add Yummee Yummee goodness to your pantry. Select a recipe to make, bake, eat, and enjoy - today! Enjoy Yummee Yummee's Muffins and Coffeecakes, Quick Breads, & Cake recipes.
Discover your . . . "ONE MIX . . . Endless Possibilities!"