Easy & Simple Halloween Decorating Ideas!
Cakes Create Creepy Halloween Centerpieces

Discover your "ONE MIX . . . Endless Possibilities!" with our premium gluten-free baking mixes.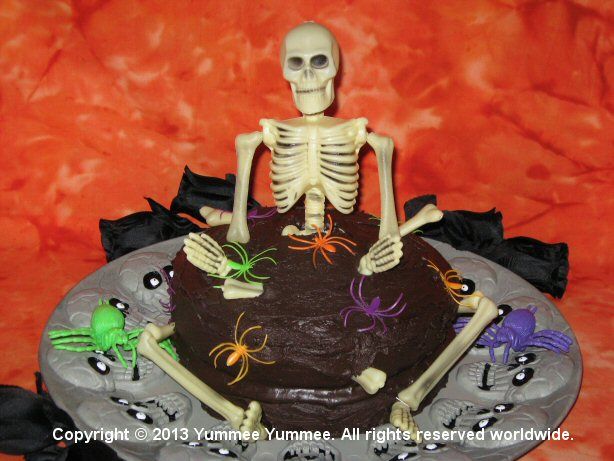 Minor Surgery Required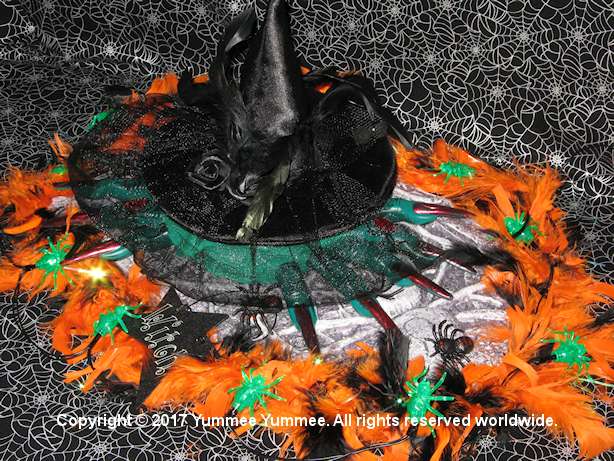 Wicked Witch's Cake
Ever wonder what happens when a skeleton rises from the grave? He has to go in search of his bones. This skeleton found his way into the Fudgee Chocolate Velvet Cake recipe. Frost the cake with Fudgee Cocoa Frosting and decorate with a dollar store plastic skeleton and spider rings. You can find various serving trays at specialized party stores, dollar discount stores or your local thrift shops. Warn your guests that the spiders and the skeleton are very scary, but not edible. We didn't pour water on this witch. Frost a cake with green frosting. Stick dollar store plastic witches' fingers into both sides of the cake. Add sparkly spider rings for extra bling. Top with a small witch's hat. Use a tombstone as a cake plate. For truly frightening ambiance, add a string of light up spiders.
Make a Mummy or a Spider Web Pizza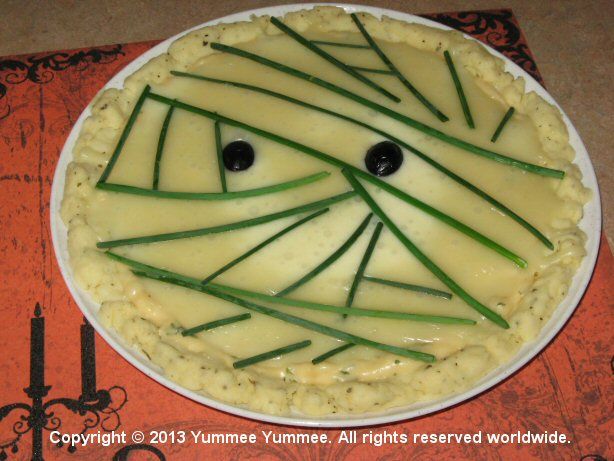 Mummy Pizza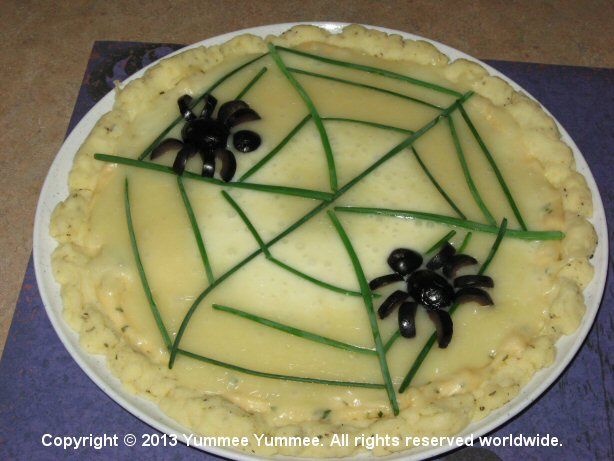 Spiders & Spider Web Pizza
To make either a mummy pizza or a spiderweb pizza, top a pizza crust with Alfredo Sauce, chopped sweet onion, and shredded Mozzarella cheese. For the Mummy, slice black olives in half lengthwise and position as eyes. Cut fresh chives into various lengths to fit pizza to make Mummy bandages. Return to microwave or oven to melt cheese. To make a spiderweb pizza, cut fresh chives into 6 long pieces to make the spokes of the spider web. Cut additional chives of various lengths to connect the spokes of the web. Slice black olives in half lengthwise for the body of the spiders. Slice tips of black olives to make the spiders' heads. Return to microwave or oven to melt cheese. Slice additional olives in half lengthwise and cut each half crosswise into strips to form spider legs. Remove from oven. Immediately, stick spider legs into melted cheese around spider bodies.
Creepy & Clever Cookies - gluten-free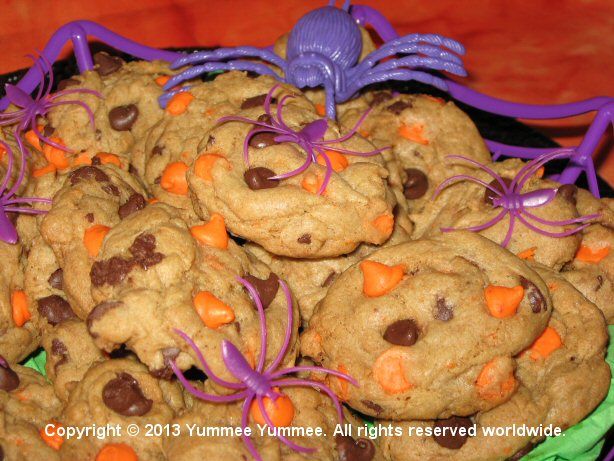 Colorful Chip Cookies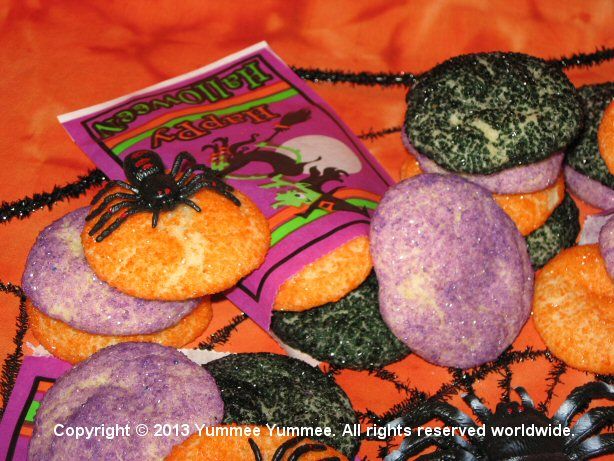 Decorative Sugars are Fun

Make Halloween-inspired Chocolate Chip Cookiees. Swap the 2 cups, (12 ounces), semi-sweet chocolate chips with a 10 ounce package of semi-sweet chocolate and orange colored baking chips. Sugardoodles are quick and simple to make. Prepare the recipe as directed. Roll the balls of cookie dough in Halloween colored decorating sugars; orange, black, and purple. Watch out for color changing tongues! To set the stage, scatter the cookies over a tinsel or plastic spider web. Add Halloween treat bags, if desired. Top the cookie stacks with plastic spiders. It's spooky fun for kids of all ages. They are "Simply Scrumptious!"
Monstrous Muffins and a Ghoulish Quick Bread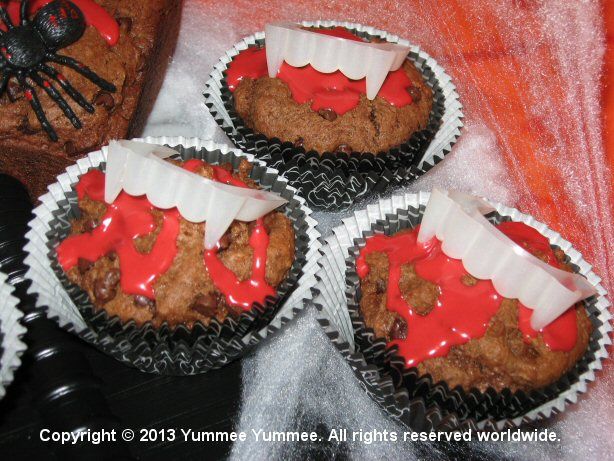 Blood Red Frosting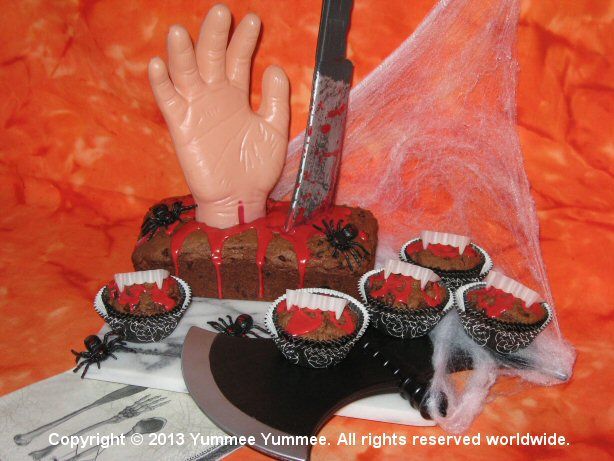 Knife and Axe
Don't miss out on every scare-filled moment of Halloween! Surprise the little ghouls and goblins for breakfast with creepy quick bread. Prepare the recipe for Triple Chocolate Muffins. Divide the batter between one 8 1/2 x 4 1/2 inch loaf pan and 8 paper lined baking cups. Use Halloween paper liners for an extra special touch. Bake as directed in the recipe and omit the chocolate glaze. Combine powdered sugar, milk, and gel food color to make the blood glaze. Insert the hand and knife into the quick bread. Drizzle the blood glaze around the hand and the knife. Allow the glaze to run over the sides of the quick bread. Drizzle the muffins with the blood glaze. Cut plastic vampire teeth in half. Place the teeth on top of each muffin. Your ghoulish breakfast is served.
Ghostly Gluten-Free Pizza and Eye of Newt Dip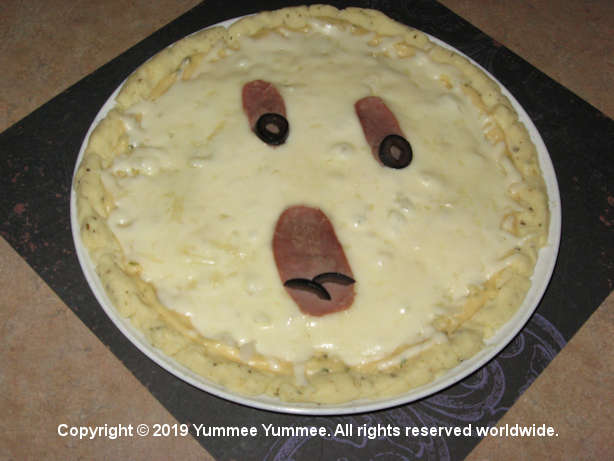 Ghost Pizza - BOO!
Make a ghost pizza for your spooks. Top a pizza crust with Alfredo Sauce, chopped sweet onion, and shredded Mozzarella cheese. Cut ovals for the eyes and mouth from slices of roast beef luncheon meat. Add sliced black olives to make details for the eyes and the tongue. Return to microwave or oven to melt cheese. Boo!

Use our FREE recipe for Cookie Dough Dip. Serve the dip in a plastic Haunted Halloween House tray with sliced apples. Add spider rings and plastic snakes to terrify your guests. Do tell your guests to enjoy the Eye of Newt dip. It's a witch's favorite.
Have Fun Decorating, but Be Smart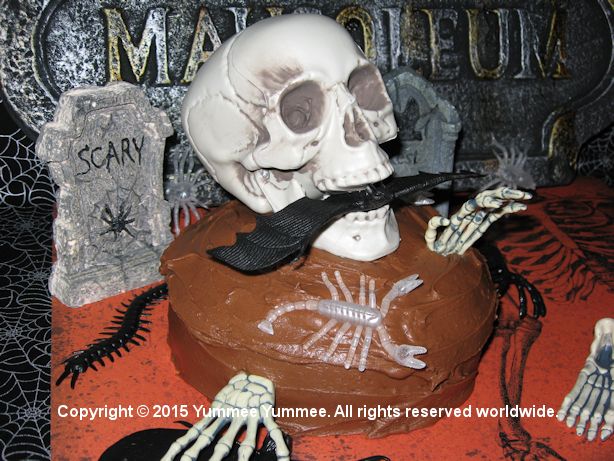 Skulls, Bats & Scorpions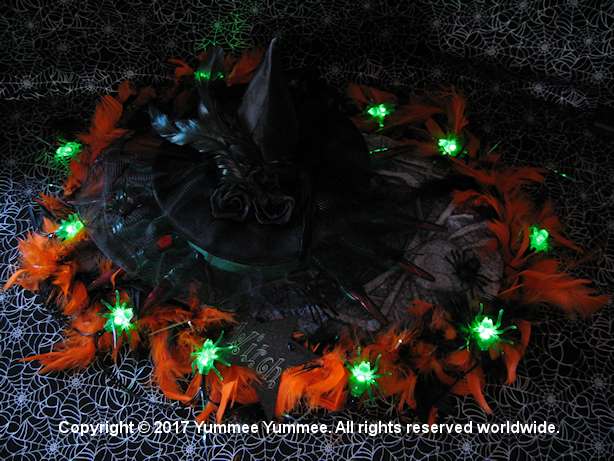 Creepy Fun
Yummee Yummee wants you, your friends, and your family to have a FUN & SAFE Halloween. It's smart shopping to buy inexpensive decorating props for your festive food. REMEMBER - small plastic props can be a choking hazard. Always remove them before you serve your guests. This is especially true with small children. Halloween parties are fun, but they are also hectic. Do be a GREAT HALLOWEEN HOST and watch the wee ones and the not so cautious adults, too.
Halloween decorating is easy with Yummee Yummee. Feed your little ghouls, goblins, and ghosts gluten-free treats. Have a safe and fun Halloween - gluten-free, of course! Making, baking, and decorating our Easy Cut Sugar Cookiees is fun. Halloween is a perfect time to tune-up your decorating skills for Christmas. They make a truly spooky addition to any Halloween Party. Click here for more Halloween decorating tricks and to view examples of our Halloween inspired cut sugar cookiees.

For even more Halloween fun, decorating ideas, tips, tricks, and techniques, you must visit Yummee Yummee's Free & Fun page. While you are there, find our free Halloween themed activity pages for the kids. Do check out Dreamee Dog's Horror Movie Classics coloring pages. Don't worry; Yummee Yummee will keep your secret if you decide to color our pages instead of the kids. Browse our FREE recipes. Witch's Brew anyone?
Sign Me Up!
Tell me about
new products, recipes, special offers, and fun for kids
.