Halloween Decorating Tricks with Cookie Cutters
Discover your "ONE MIX . . . Endless Possibilities!" with our premium gluten-free baking mixes.
"Harvest moon in the sky, see the bats go flying by."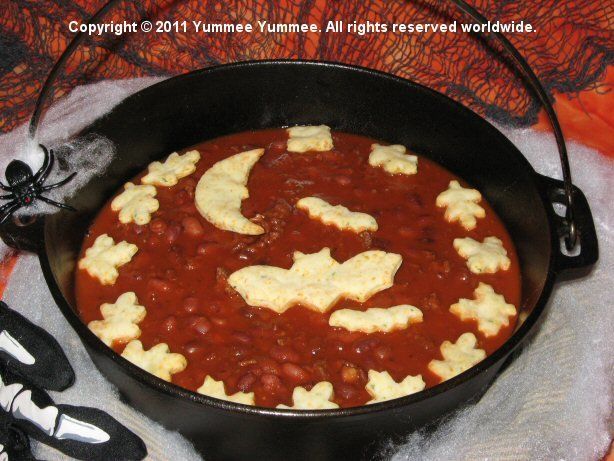 A Witch's Caldron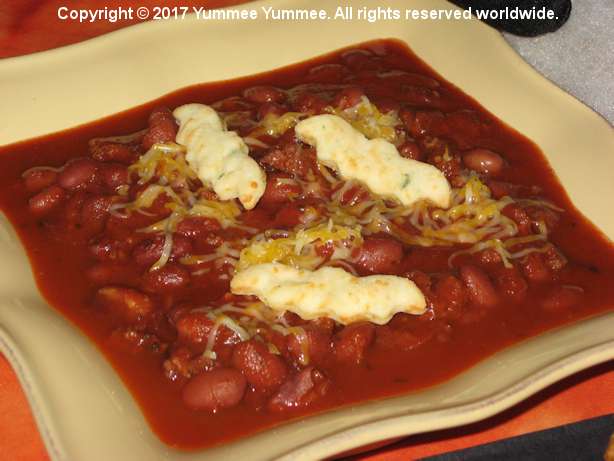 Witch's Brew for You
Halloween should be full of spooky, scary treats.

Make Cheddar Cheese Crackers into bats. Look out – they dive into your soup, stews, or chili. The crescent moon and large bat were made using 3 inch cookie cutters, while the leaves and smaller bats used 1 1/2 inch cookie cutters. You cannot buy bat crackers. It's the advantage of homemade.
"Autumn leaves swirl and dance."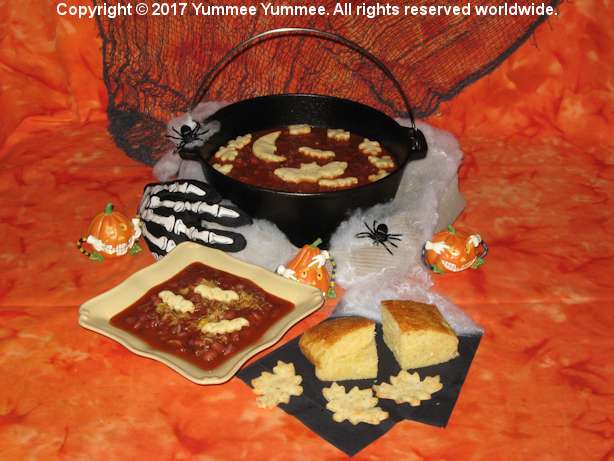 Your Witch's Caldron Centerpiece
Make your own magic potion for Witch's Brew and use it as a centerpiece for your ghostly gluten-free Halloween party. Add cobwebs around a cast iron Dutch oven to give the appearance of a bubbling caldron. Use plastic spiders as accents. Build the rest of your serving station around this tasty potion. Remember, Chili tastes better when you call it Witch's Brew! Make homemade, gluten-free crackers. Vary the size of the leaves - small ones for a crunchy bite in Witch's Brew and large ones for appetizers. Be creative and make the shapes you want for your tasty and creepy Halloween party. This is the Yummee Yummee advantage. No soup, stew, or chili is complete without Cornbread.

"A scarecrow with carrot hair, guaranteed to give you a scare."
To make any of the pizzas featured on this page, prepare the Thin Crust Pizza recipe from Dreamees mix in the microwave or conventional oven. Use canned luncheon meat to make the shapes using 3 inch and 1 1/2 inch cookie cutters. Position luncheon meat pieces on pizzas. Heat the pizzas to melt the cheeses and cook the meat.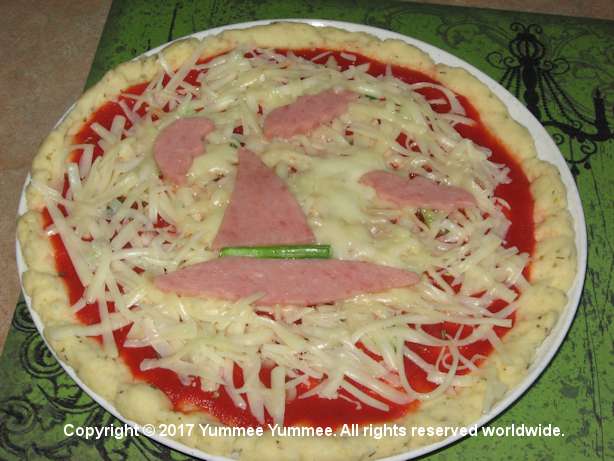 Witch's Hat Pizza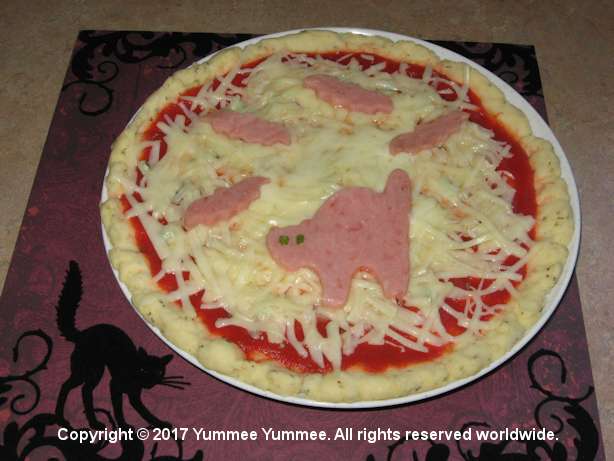 Scary Black Cat Pizza
Do you have a little witch at your house? Cut the witch's hat to separate the brim of the hat from the pointed top.

Use the top of a green onion or a slice of pepper, carrot, or celery between the two pieces to make a colorful band on the hat. Can you cackle like the witch in "A Ghostly Gluten-Free Tale?" It's a wicked black cat with glowing green eyes. Make this pizza for the cat lover in your family. 'Fluffy' will love being the center of attention. To make the cat's eyes, hollow out small circles with the tip of a toothpick. Place tiny green onion slices into the hollowed out holes. For glowing red eyes use pieces of red peppers.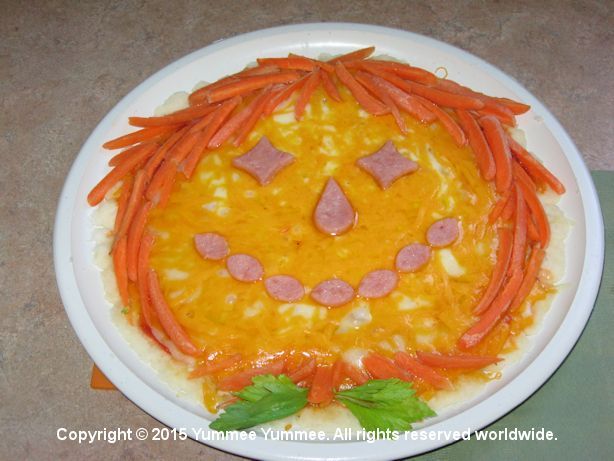 Scarecrow Pizza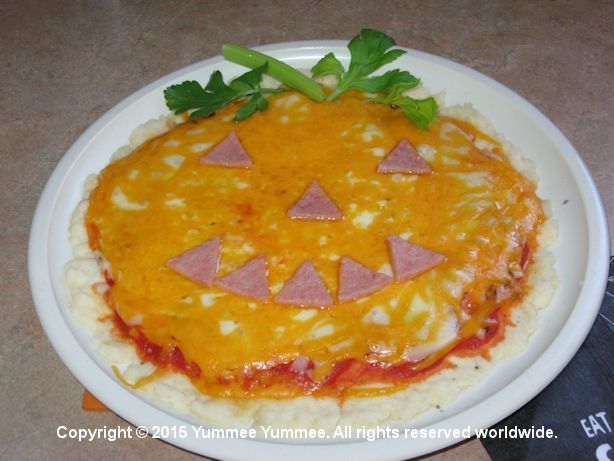 Jack O'Lantern Pizza
A silly Scarecrow or a jolly Jack O' Lantern are a great lunch surprise. Use 1 inch cookie cutters to cut most of the shapes for both pizzas. The mouth on the scarecrow was made with a 3/4 inch almond-shaped cookie cutter. Top your pizza with any yellow cheese. We used Colby-Jack. To make the Scarecrow's hair, cut baby carrots into thin strips. Place carrots around outer edge of pizza and under the chin of the Scarecrow. To make the bow-tie, use celery leaves and position under the Scarecrow's chin. To make the stalk on the pumpkin, use the top of a celery stalk where it branches apart. Remove leaves from the celery to make the vines for the pumpkin. Note: carrots and celery leaves are not heated. The addition of fresh vegetables makes pizza for lunch a healthy option. The little monsters will gobble them up.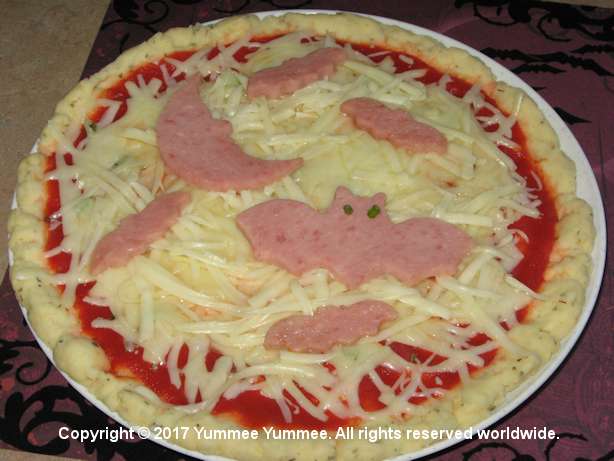 Crescent Moon and a Bat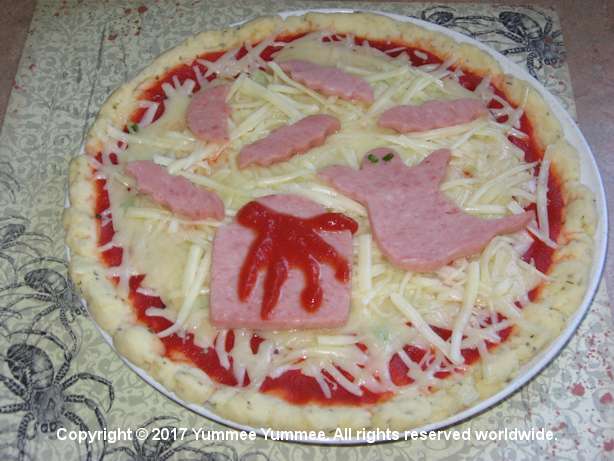 Ghost & Graveyard Pizza
"I vant to eat your pizza!" Vampires love our pizzas; they can sleep all day and still have time to make dinner. Make a ghostly graveyard or vampire bat on pizzas.

To make the eyes, hollow out small circles with the tip of a toothpick. Place tiny green onion slices into the hollowed out holes. For glowing red eyes use pieces of red peppers. Drizzle tomato sauce to make a bloody hand across the tombstone. If the tomato sauce doesn't go 'exactly' where you want, just tell everyone it is vampire blood on a tombstone.
"Monsters, ghosts, and a mummy, haunt this place, but they're Yummee Yummee."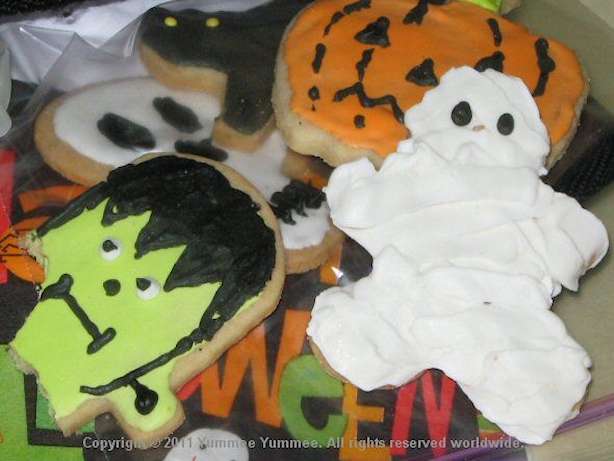 Monsters & Mummies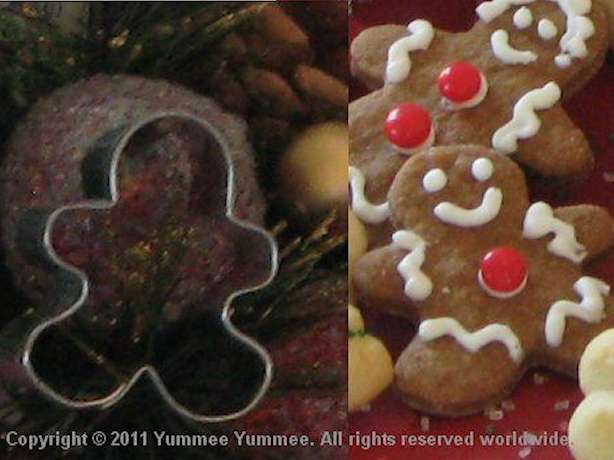 Gingerbread Man or Mummy
Transform Easy Cut Out Sugar Cookie dough into monsters, ghosts, spooky skulls, and black cats. Pull your holiday cookie cutters out of the drawer for this scary little guy. Use a 3 inch gingerbread man cookie cutter for the mummy shape. White royal icing and a #102 decorating tip make perfect strips. Place strips of royal icing across the legs, arms, head, and body. Pipe the strips in diagonal directions to give the illusion of cloth mummy wraps. Add two black dots for eyes. Have fun! Mummies are tattered and torn. So, you don't have to be perfect. Mummy cookies are Yummee Yummee!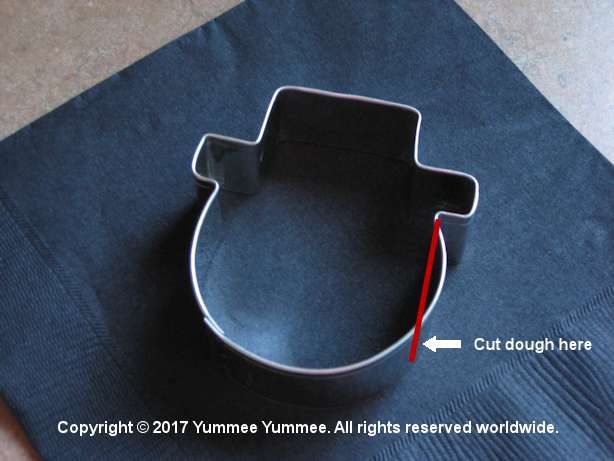 Happy Snowman to Monster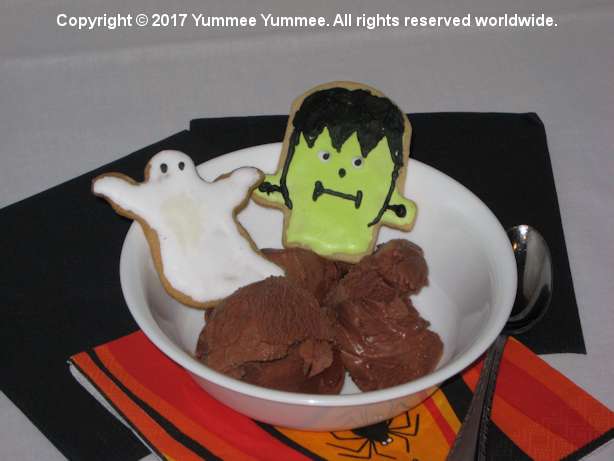 Cookies & Ice Cream
Where is the monster at your party? Your little monsters will love this monster cookie.

Use a 3 inch holiday cookie cutter - large snowman face with a hat. Cut the cookie shape from the dough. Take a table knife and trim both sides of the round snowman's face. Sides should be straight. Save scraps and reroll for more monster cookies. Bake as directed. Turn the trimmed snowman's face upside down to decorate. Use green royal icing for the base color on the monster. Black icing creates the details on the face. With a #5 decorating tip, pipe the jagged outline for hair and fill in. If you want smoother hair, smooth with a small decorating spatula or knife. This monster looks very scary, but he is monstrously delicious. Yum!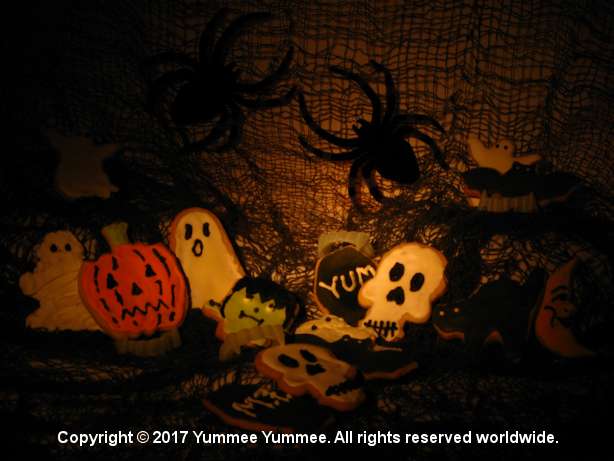 Make a Skull from a Snowman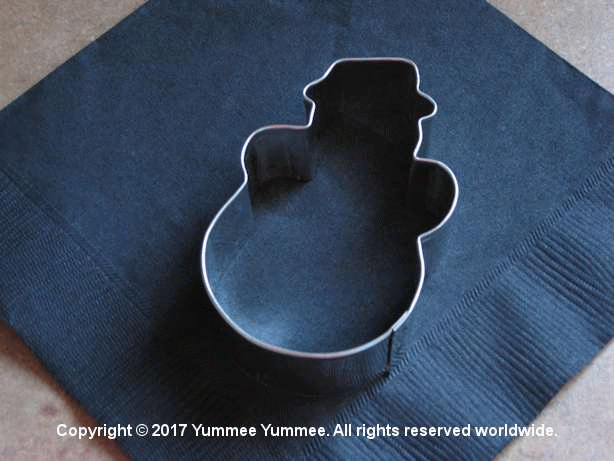 Upside Down Snowman
No Halloween party is complete without a creepy skull. Use a snowman cookie cutter. Cut the snowman from Easy Cut Out Sugar Cookie dough. Bake as directed. Turn the snowman cookie upside down to decorate. The bottom of the snowman becomes the top of the skull. How fun is that? Decorate with white royal icing. Add black accents for the eyes, nose, and mouth. Use a #5 tip for the skull's black detail. Add this tasty skull cookie to your Halloween list of treats.
"Cookies, brownies, and blondies, too. Don't you love sweets as much as vampires do?"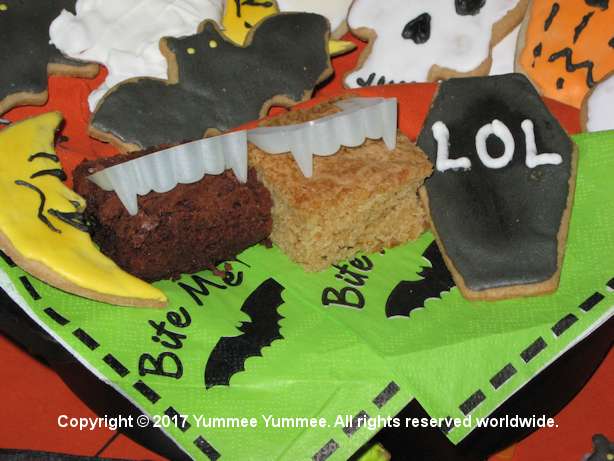 Vampires Love Brownies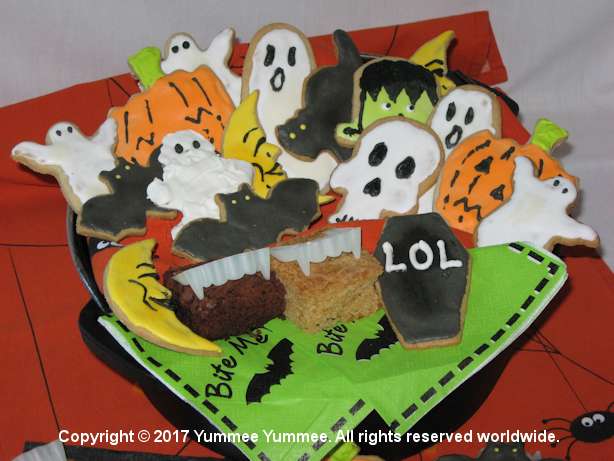 Spooky Cookies Centerpiece
The vampire says, "I vant to eat your brownies!" Scare your guests with glow-in-the-dark vampire teeth in gluten-free Brownies and Blondies. Cut glow-in-the-dark vampire teeth in half. Take one half and gently press into the top of the bars. One set of teeth decorates two bars. It's Yummee Yummee decorating fun.

Use a cast iron Dutch oven or a plastic version to make a creepy cookie centerpiece. Line the inside of the witch's caldron with a Halloween dish cloth and napkins. Fill with decorated Easy Cut Out Sugar Cookies, Brownies, and Blondies. Douse the lights and have some fun. The vampires rise when the lights are out.
"Ghostly spooky house on a hill, surrounded by cookies for a gluten-free thrill."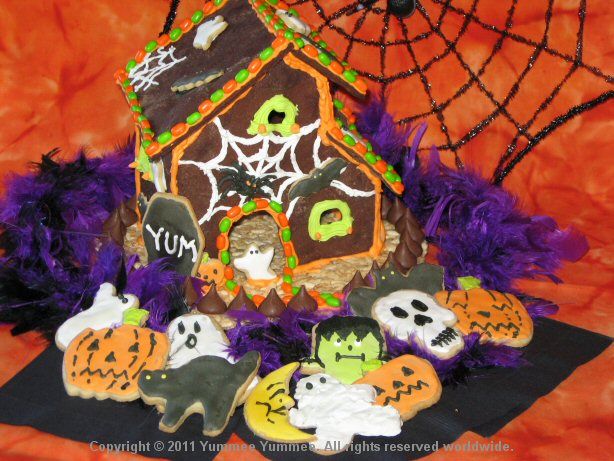 Spooky House on a Hill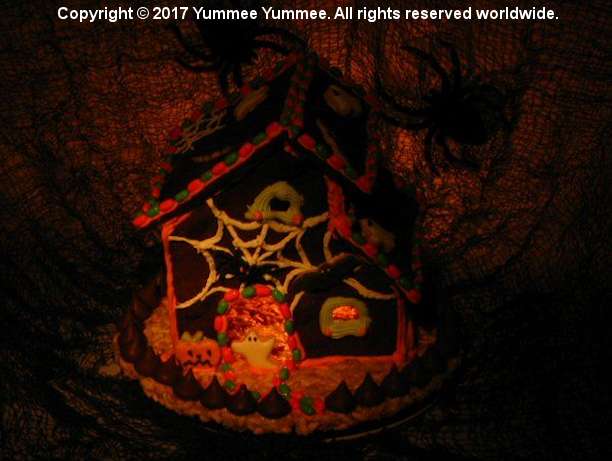 Lighting Sets the Mood
Use Crispiees to make an edible base for Ghostly Gluten-Free Manor. A lightly greased 10 inch tart pan with a removable bottom works well. Place set Crispiees on a piece of foam core for stability and adhere with royal icing. Use Chocolate Graham Crackers to make the house. Create your own design or use gingerbread house cookie cutters or patterns. Purchase gluten-free candy shaped mints to decorate the outline of the roof. Foil-wrapped chocolate pieces make the fencing around the perimeter of the Crispiees. Use gel colors to tint the royal icing. We used the following tips: #5, #18, and #22. Easy Cut Out Sugar Cookies in 1 1/2 and 3 inch sizes decorate the sides and roof of the house. Black cats and pumpkins are placed around the bottom of the haunted house, while ghosts and bats are placed higher up and on the roof top. Add creepy white spider webs and a fuzzy black spider to your house. A small ghost greets every visitor in the doorway. Decorate coffins and secure to the house with royal icing. They are fun to decorate with silly, spooky sayings. Use LED tea lights, or votives, to safely light your Ghostly Gluten-Free Manor for your party. Place your large cut sugar cookies around your Ghostly Gluten-Free Manor so all can enjoy this deliciously gluten-free Halloween treat.
"Ghosts and pumpkins and wicked black cats, wander the graveyard in search of the glowing eyed bat."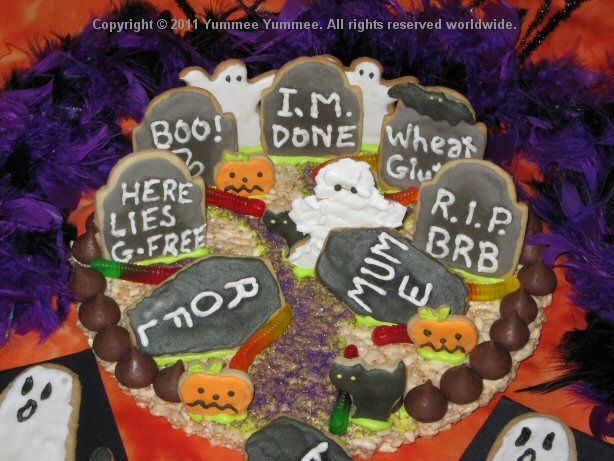 A Graveyard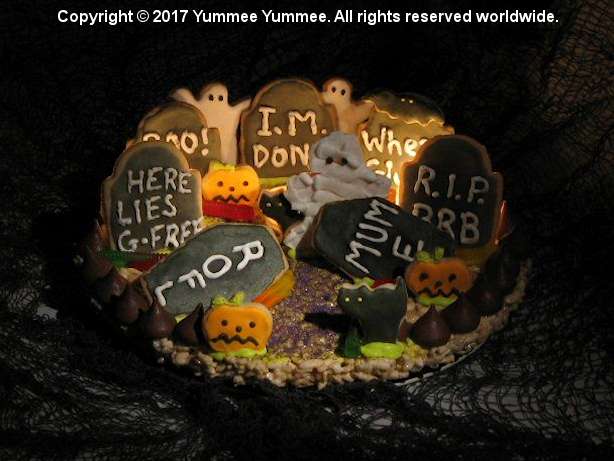 Gravyard at Night - BOO!
This spooktacular graveyard uses the Crispiees recipe for the base. Please refer to the previous section for details. Create a path through the graveyard with royal icing and purple sugar crystals. Make Easy Cut Out Sugar Cookies with 1 1/2 inch and 3 inch cookie cutters. The cookie dough is easier than wheat-based dough to roll, cut, and place on the baking sheets. Our cookies are soft and tender to eat, yet sturdy enough to hold up to handling and decorating. They stay fresh for about a week and do not need to be frozen. We used the following tips: #5 and #102. The #5 is used for lettering, outlining, and eyes. The #102 is used for the mummy wraps. All cookies are anchored with royal icing. Some cookies are attached for a dimensional affect, like the small bat on the corner of the tombstone. Get creative with your tombstone lettering. Make them silly or creepy. Place large gummy worms between tombstones. "The mummy warns to watch where you walk on crunchy Crispiees where gummy worms talk."
"Listen closely children to the story I tell. It's a very scary tale that ends well."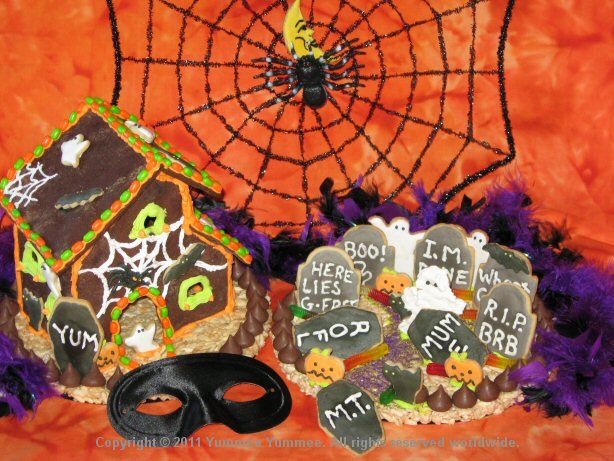 Visit Ghostly Gluten-Free Manor
Make, bake, and decorate a ghostly graveyard or a haunted house as a centerpiece. Try your hand at these easy Halloween decorating ideas. It doesn't have to be perfect, just made with love. Halloween decorating is easy with Yummee Yummee. Feed your little ghouls, goblins, and ghosts gluten-free treats. Have a safe and fun Halloween - gluten-free, of course!

Watch "A Ghostly Gluten Free Tale" to see all of the Yummee Yummee cookies shown on this page. "It's scrumptious, it's tasty, it's delicious, it's Yummee!"

Sign Me Up!
Tell me about
new products, recipes, special offers, and fun for kids
.