Meatloaf 3.0 – Gluten-Free and Heart Healthy
Tucson, Ariz. - February 02, 2012 – Grandma had her special meatloaf recipe. She shared that recipe with her daughter. Mom fixed the same meatloaf recipe adding her special culinary twist. She glazed the meatloaf with a secret sauce - ketchup. Both recipes were made with hamburger and crackers or breadcrumbs. For that extra special touch, Mom hid hard-boiled eggs in the middle of the loaf. The decorative hard-boiled egg in a slice of meatloaf was the pinnacle of gourmet cooking – it was the 1950s. Meatloaf has been an inexpensive family meal in the American kitchen even before the Great Depression. Grandma was a great cook, but even she improved her recipes. This is an upgrade to grandma's culinary expertise with a heart-healthy choice.
Meatloaf with Brown Rice and Veggies is a simple nutritious recipe. This naturally gluten-free meal serves everyone around the dinner table. Lean ground turkey and whole-grain brown rice combine to make a heart-healthy, delicious gluten-free meal. Vegetables, tomato sauce and spices result in a flavor profile that is sure to please. While your meatloaf bakes in the oven, do a load of laundry, help the kids with homework or prepare a gluten-free dessert. Serve with vegetables, salad or a simple baked potato. Make use of the leftover meatloaf as another meal later in the week. A cold meatloaf sandwich makes a great lunch. Download this naturally gluten-free recipe today. Visit the Yummee Yummee website for this free recipe. Mom and grandma will not be insulted, just impressed with your updated cooking skills. Save the ketchup for the meatloaf sandwich.
Meatloaf 3.0 – Gluten-Free and Heart Healthy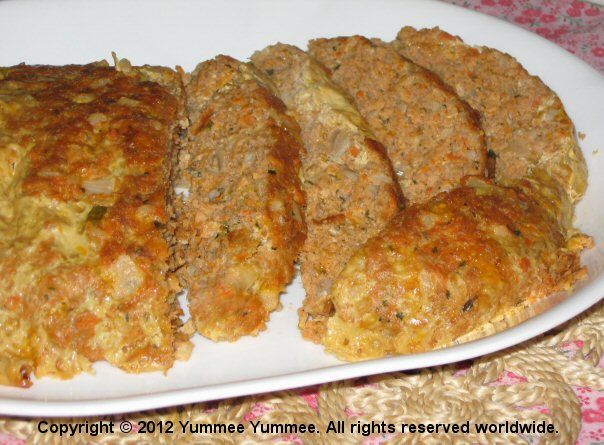 Web site: http://www.yummeeyummee.com
Online store: http://www.yummeeyummee.com/store/index.html
Subscribe to TheDreameeDog Channel: http://www.youtube.com/user/thedreameedog
Like Yummee Yummee on Facebook
Follow The Dreamee Dog on Twitter
ABOUT: Yummee Yummee produces 4 unique and highly versatile gluten-free baking mixes - Dreamees, Muffins & Coffee Cakes, Breads, and Cookiees. Make artisan crackers and biscuits; fruit filled muffins, coffeecakes, and quick breads; soft sandwich and artisan breads, pizza, and cinnamon rolls; chip-filled cookies, easy-to-make bars, and sugary delights. Our baking mixes offer remarkable taste, gluten-like texture, and incredible value for gluten-free bakers. Unlike most single purpose baking mixes, Yummee Yummee gives the baker complete control. You decide what to bake and enjoy. Mixes are available exclusively at yummeeyummee.com. The Dreamee Dog is the official spokes pup for Yummee Yummee.
# # #
For more information concerning this press release click here for contact information.:


Listen to the Dreamee Dog ...