Gluten-Free King Cake – Let the Good Times Roll
Tucson, Ariz. - February 14, 2012 – What is your Lenten sacrifice – chocolate, morning coffee, desserts or candy? Before the Lenten season begins, celebrate Fat Tuesday and enjoy a traditional sweet indulgence – King Cake. As they say in New Orleans, "Laissez les bons temps rouler." So, let the good times roll with Yummee Yummee's gluten-free King Cake.
If you are unable to party in New Orleans, pick up your beads at the local dollar store, purchase your foil-wrapped chocolate coins for snacks and make gluten-free King Cake for your one-of-kind Mardi Gras celebration. Gluten-free King Cake? Oui, c'est vrai avec Yummee Yummee. You can follow the Mardi Gras tradition - gluten-free. Use Yummee Yummee's Breads mix and create a gluten-free King Cake to rival the best New Orleans pātisserie.
Yummee Yummee's King Cake recipe features a spiced gourmet yeast dough, decadent praline-inspired filling and luscious powdered sugar glaze. Indulge in a King Cake accented with the subtle flavors of cinnamon, nutmeg, vanilla and citrus. Devour a scrumptious pecan, cinnamon and dark brown sugar filling. Hide the plastic baby in Yummee Yummee's sumptuous cake and decorate with the colors of Carnival; purple, green and gold. This recipe is easy to prepare and will make any New Orleans baker jealous. Our King Cake features extraordinary texture and flavor that rivals any wheat-based confection from the old south. Let the children join the celebration with Dreamee Dog's free coloring pages. Color the Dreamee Dog in her Mardi Gras finery. The good times will roll this year at your house as you celebrate Mardi Gras in gluten-free style. Visit the Yummee Yummee website for complete details.
Gluten-Free King Cake – Let the Good Times Roll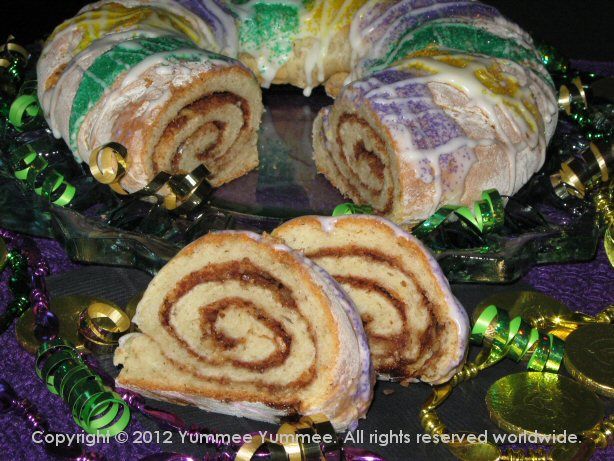 Web site: http://www.yummeeyummee.com
Online store: http://www.yummeeyummee.com/store/index.html
Subscribe to TheDreameeDog Channel: http://www.youtube.com/user/thedreameedog
Like Yummee Yummee on Facebook
Follow The Dreamee Dog on Twitter
ABOUT: Yummee Yummee produces 4 unique and highly versatile gluten-free baking mixes - Dreamees, Muffins & Coffee Cakes, Breads, and Cookiees. Make artisan crackers and biscuits; fruit filled muffins, coffeecakes, and quick breads; soft sandwich and artisan breads, pizza, and cinnamon rolls; chip-filled cookies, easy-to-make bars, and sugary delights. Our baking mixes offer remarkable taste, gluten-like texture, and incredible value for gluten-free bakers. Unlike most single purpose baking mixes, Yummee Yummee gives the baker complete control. You decide what to bake and enjoy. Mixes are available exclusively at yummeeyummee.com. The Dreamee Dog is the official spokes pup for Yummee Yummee.
# # #
For more information concerning this press release click here for contact information.:


Listen to the Dreamee Dog ...