National Cherry Pie Day
Tucson, Ariz. - February 17, 2012 – What's the best way to celebrate National Cherry Pie Day and President's Day? Save your money on a trip to Washington, D.C. Wait for warmer weather; it's too cold to go now. Instead, stay home and bake a cherry pie in honor of George Washington. Warm, fresh cherry pie is a history lesson on a plate. George Washington is famously quoted as saying, "I cannot tell a lie." Well, neither can Yummee Yummee. Our gluten-free pie crust is the best. If your little future presidents are gluten-free, make them a gluten-free cherry pie with Yummee Yummee's recipe.
The perfect pie crust – gluten-free or not – must be tender, light, flaky, rich, buttery, and delicate. Pie crusts and cakes are a basis by which to judge an individual's baking skill. Our pie crust is egg, nut, and soy-free. This recipe would make your grandmother proud. With Yummee Yummee's flexible Dreamees mix and recipe, you bake a perfect two-crust pie. The crust complements the cherry filling. Definitely up to Presidential standards.
Embrace the Yummee Yummee advantage of simple gluten-free baking and eating. Just roll out and lift the pie crust into the pie plate. It's a blue-ribbon pie crust that Martha Washington would have been proud to serve her husband, only she used fresh picked cherries. On February 22nd, celebrate President Washington's Birthday with your gluten-free cherry pie. Don't forget the ice cream to top your slice. Which leads us to ask, "Why would anyone want to chop down a cherry tree?"
During Fabulous February, this recipe is free with purchase of any Yummee Yummee Sample Pack. Visit the website for details.
National Cherry Pie Day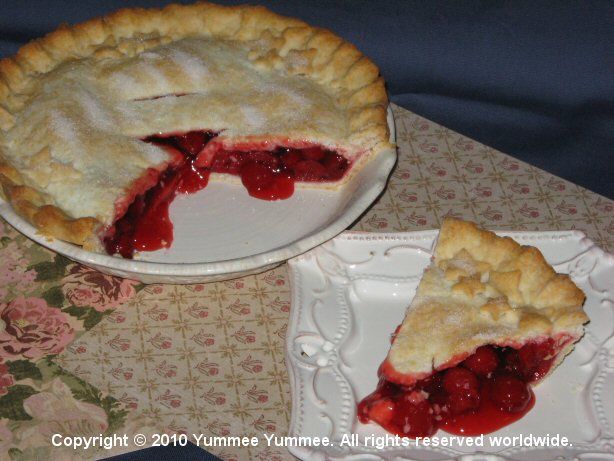 Web site: http://www.yummeeyummee.com
Online store: http://www.yummeeyummee.com/store/index.html
Subscribe to TheDreameeDog Channel: http://www.youtube.com/user/thedreameedog
Like Yummee Yummee on Facebook
Follow The Dreamee Dog on Twitter
ABOUT: Yummee Yummee produces 4 unique and highly versatile gluten-free baking mixes - Dreamees, Muffins & Coffee Cakes, Breads, and Cookiees. Make artisan crackers and biscuits; fruit filled muffins, coffeecakes, and quick breads; soft sandwich and artisan breads, pizza, and cinnamon rolls; chip-filled cookies, easy-to-make bars, and sugary delights. Our baking mixes offer remarkable taste, gluten-like texture, and incredible value for gluten-free bakers. Unlike most single purpose baking mixes, Yummee Yummee gives the baker complete control. You decide what to bake and enjoy. Mixes are available exclusively at yummeeyummee.com. The Dreamee Dog is the official spokes pup for Yummee Yummee.
# # #
For more information concerning this press release click here for contact information.:


Listen to the Dreamee Dog ...