Irish Soda Bread - Gluten-Free
Tucson, Ariz. - March 15, 2012 – When you are wearin' o' the green, you need a great dessert to follow your corned beef and cabbage dinner. Try this Americanized version of Irish Soda Bread. Raisins, cranberries, caraway seeds, allspice, nutmeg, and pecans produce a moist, hearty bread. Serves 8 to 10 hungry Irish lads or lassies. Wear your "Kiss Me I'm Irish" button with pride! This recipe proves your gluten-free baking prowess and your Irish heritage. It's a great quick breakfast treat - add a spot of tea.
The Irish Soda Bread recipe is free with purchase. It uses Yummee Yummee's Muffins & Coffee Cakes gluten-free baking mix. It is one of six recipes available this month. Order a Sample Pack Plus and make, bake, eat, and enjoy all six recipes. Cherry Pie anyone? Visit the Yummee Yummee website for complete details.
During March, this recipe is free with purchase of any Yummee Yummee Sample Pack. Visit the website for details.
Irish Soda Bread - Gluten-Free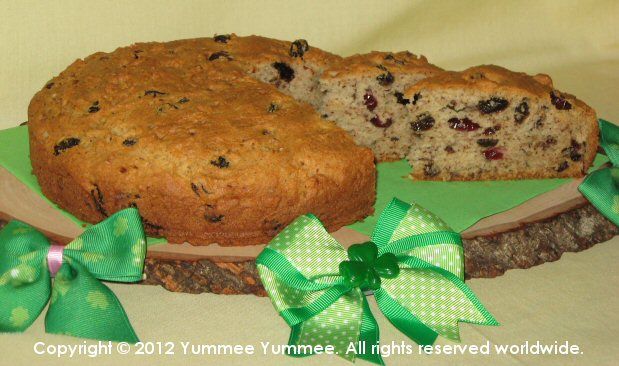 Web site: http://www.yummeeyummee.com
Online store: http://www.yummeeyummee.com/store/index.html
Subscribe to TheDreameeDog Channel: http://www.youtube.com/user/thedreameedog
Like Yummee Yummee on Facebook
Follow The Dreamee Dog on Twitter
ABOUT: Yummee Yummee produces 4 unique and highly versatile gluten-free baking mixes - Dreamees, Muffins & Coffee Cakes, Breads, and Cookiees. Make artisan crackers and biscuits; fruit filled muffins, coffeecakes, and quick breads; soft sandwich and artisan breads, pizza, and cinnamon rolls; chip-filled cookies, easy-to-make bars, and sugary delights. Our baking mixes offer remarkable taste, gluten-like texture, and incredible value for gluten-free bakers. Unlike most single purpose baking mixes, Yummee Yummee gives the baker complete control. You decide what to bake and enjoy. Mixes are available exclusively at yummeeyummee.com. The Dreamee Dog is the official spokes pup for Yummee Yummee.
# # #
For more information concerning this press release click here for contact information.:


Listen to the Dreamee Dog ...