Stovetop Baked Beans – No Oven Required
Tucson, Ariz. - July 26, 2012 – July is National Baked Beans Month. Baked beans are delicious and as essential to summer as cool watermelon slices and refreshing lemonade. With the onslaught of the summer heat, it's too hot to use your oven. Our Stovetop Baked Beans recipe is a beat-the-heat recipe from Yummee Yummee. This recipe is quick, easy, and perfect for the summer time heat.
Yummee Yummee's recipe for baked beans is prepared on your stovetop. Pull a cooking pot from your cupboard and have delicious tasting baked beans in minutes. Stovetop Baked Beans are rich and savory with the perfect blend of spices. A touch of cumin and chili powder bring the heat, while a little butter makes smooth, creamy, velvety beans. This recipe is loaded with fiber and has no added sugar, so it's friendly to your waistline. Serve your Stovetop Baked Beans at a backyard barbecue or a summer picnic. Double or triple the recipe for large crowds at potlucks. Psst! Here's a secret. Keep the leftover beans; store in the refrigerator; they are great served cold. Yes, cold beans! They are yummee and refreshing for a mid-day picnic lunch. If you need another side dish, prepare our Yummee Yummee Pea Salad. Fire up the grill and you are ready to party in beat-the-heat Yummee Yummee style.
Check out this recipe and other free recipes at the Yummee Yummee website - yummeeyummee.com. When you visit our website, check out our No-Bake Cheesecake, it's a cool summer dessert.
Stovetop Baked Beans – No Oven Required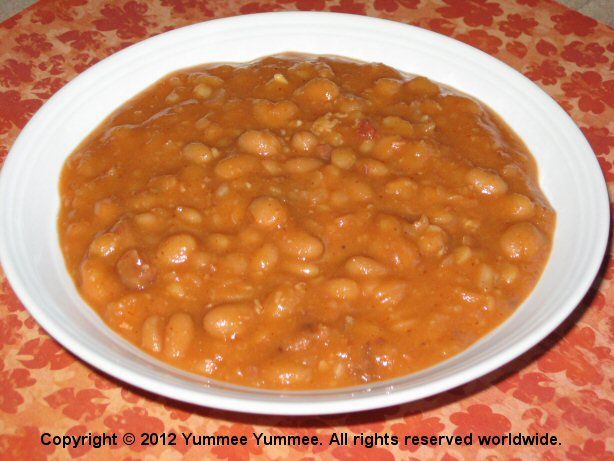 Web site: http://www.yummeeyummee.com
Online store: http://www.yummeeyummee.com/store/index.html
Subscribe to TheDreameeDog Channel: http://www.youtube.com/user/thedreameedog
Like Yummee Yummee on Facebook
Follow The Dreamee Dog on Twitter
ABOUT: Yummee Yummee produces 4 unique and highly versatile gluten-free baking mixes - Dreamees, Muffins & Coffee Cakes, Breads, and Cookiees. Make artisan crackers and biscuits; fruit filled muffins, coffeecakes, and quick breads; soft sandwich and artisan breads, pizza, and cinnamon rolls; chip-filled cookies, easy-to-make bars, and sugary delights. Our baking mixes offer remarkable taste, gluten-like texture, and incredible value for gluten-free bakers. Unlike most single purpose baking mixes, Yummee Yummee gives the baker complete control. You decide what to bake and enjoy. Mixes are available exclusively at yummeeyummee.com. The Dreamee Dog is the official spokes pup for Yummee Yummee.
# # #
For more information concerning this press release click here for contact information.:
Listen to the Dreamee Dog ...