National Doughnut Day - Gluten-Free
Discover your "ONE MIX . . . Endless Possibilities!" with our premium gluten-free baking mixes.

June 7, 2013
Tucson, Ariz. - June 7, 2013 - Is it donut or doughnut? It makes no difference. Either way the word is spelled; there is only one correct answer, yummee. Donuts are traditionally round wheels with a cute hole in the middle. But, there are bite-sized donut holes, chocolate glazed Long Johns, sugary Twists, cream or jelly-filled Bismarks, and custard-filled Donuts - all simply scrumptious. No matter what you call it, whatever shape you prefer, or however you spell it; doughnuts are for eating. Eat them baked or fried. They are perfect for breakfast on the go, a snack in the afternoon, or Sunday morning brunch.
Many college students will attest to the nutrient value of donuts at exam time. And, whether it's true or not, many law enforcement officers have ingested their fair share of the sweet, little dough rounds. What's a sleep over without a morning donut run by the parents, whose home was invaded by a dozen sleeping teenagers? And although health food is mantra of our education system, how many times have students begged adults to buy a box or more of donuts for a school fundraiser? These tempting sweets probably out sell the boxes of healthy Christmas oranges 10 to 1. It is a national love affair with donuts.
Ah, but then there is the gluten-free side of the coin. Frozen doughnuts are a true disappointment. No longer soft, but chewy and dense even after a run through the microwave. But, all is not lost. Yummee Yummee and the Dreamee Dog have the perfect recipe to make soft, melt-in-your-mouth, bakery-style, homemade cake doughnuts from your oven. These yeast-free cake donuts are the answer to your gluten-free cravings. Roll your homemade donuts in powdered sugar. Smother your fresh baked goodness with chocolate or vanilla icing. Add sprinkles for a special occasion. Surround your doughnuts in cinnamon and sugar. Celebrate National Doughnut Day in true gluten-free style. It's easy with Yummee Yummee and Dreamees mix. Don't forget to color Dreamee Dog's special coloring page in honor of National Doughnut Day.
National Doughnut Day - gluten-free with Yummee Yummee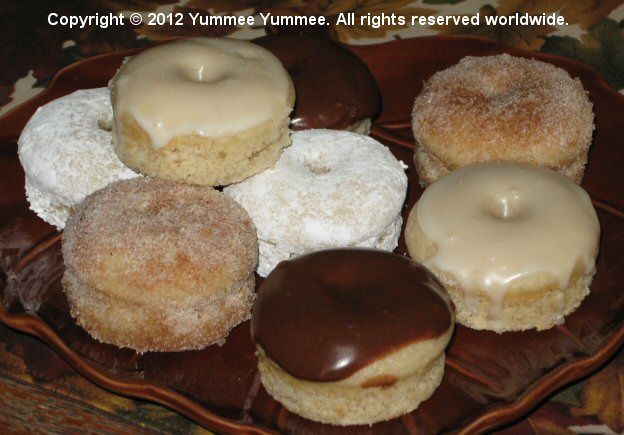 Web site: https://www.yummeeyummee.com
SHOP & SAVE 20%: https://www.yummeeyummee.com/store/index.html
Facebook: https://www.facebook.com/yummeeyummee
Pinterest: https://www.pinterest.com/dreameedog
Twitter: https://twitter.com/thedreameedog
YouTube: https://www.youtube.com/user/TheDreameeDog
ABOUT: Yummee Yummee produces 4 unique and highly versatile, premium gluten-free baking mixes - Dreamees, Muffins & Coffee Cakes, Breads, and Cookiees. Make artisan crackers and biscuits; fruit filled muffins, coffeecakes, and quick breads; soft sandwich and artisan breads, pizza, and cinnamon rolls; chip-filled cookies, easy-to-make bars, and sugary delights. Our premium baking mixes offer remarkable taste, gluten-like texture, and incredible value for gluten-free bakers. Unlike most single purpose baking mixes, Yummee Yummee gives the baker complete control. You decide what to bake and enjoy. Mixes are available exclusively at yummeeyummee.com. The Dreamee Dog is the official spokes pup for Yummee Yummee.
# # #
For more information concerning this press release click here for contact information.

Not available in stores - online only! SHOP & SAVE 20% on a case of premium gluten-free mixes or a Sample Pack. It's a great way to sample and enjoy each of our premium gluten-free baking mixes.

Sign Me Up!
Tell me about
new products, recipes, special offers, and fun for kids
.