Gluten-Free Pie Crust, Donuts, and Grahams
Welcome to the endless sweet possibilities of Dreamees premium all-purpose baking mix. Crackers

and cheese make a great snack and sometimes a good lunch. But, something sweet, soft and Yummee Yummee is a perfect any time treat. Cheese Danish, Mini Donuts, Angel Food Cake, cobblers, cheesecake, graham crackers, and even cookies. Make, bake, eat, and enjoy your gluten-free food. Don't forget to share!
Discover your "ONE MIX . . . Endless Possibilities!"
What's better than doughnuts? Cheese Danish filled with a rich cream cheese filling. Drizzle your Danish with icing and enjoy. Donuts and coffee are a classic morning combo. Our recipe for Mini-Donuts makes perfectly shaped donuts. Hearts, anyone? Grandma loved a good cake. Her slices were always twice the size of what other people would cut. Felice's Angel Food Cake is soft and delicate. Make sure to cut your piece big enough, but feel free to go back for seconds of this cake. Sometimes you should play with your food. Our Peanut Butter Beana Bites are simple to make and fun to eat. Use a checkerboard for a fun serving tray, or play checkers. You will be tempted to cheat because they taste so good. Visit Yummee Yummee's specialty cookies page for a sandwich cookie filling recipe.
This Peach Cobbler recipe is simple to make. Pour melted butter in a baking dish, top with the batter and the peaches, and bake.

It's gluten-free dessert made easy. Chocolate Crackle Cookies are delicious delights of yummee goodness. These crinkles are truly worthy of Santa. Leave him several, as one isn't enough. S'mores are a campfire staple. Make them gluten-free with Yummee Yummee's Graham Crackers. Use our Chocolate Graham Crackers and double the chocolate. Cheesecake makes a wonderful refreshing summer dessert. Our recipe for Peaches and Cream Cheesecake adds a burst of peach flavor to a classic pastry crust.
Butterscotch Cookies are a simply scrumptious sweet treat. The blend of pecans and butterscotch melt in your mouth. Fresh peaches are a family favorite in the summer. Whether served cold over ice cream, or baked in a cobbler, they are a sweet treat after a hot day. Old-Fashioned Peach Cobbler features a delicate crust and fresh peaches in the filling. Chocolate Graham Crackers are a twist on our traditional Graham Cracker recipe. Use them to make gourmet Mini Blackberry Cheesecakes, or for a haunted Halloween centerpiece surrounded by our Easy Cut Out Sugar Cookies. Apple might be America's favorite pie, but for the Yummee Yummee Team, it has to be Cherry. Our Two Crust Pie recipe is simple and easy to make. No wax paper or plastic wrap required.
Yummee Cheesecake with Cherries. But, in order to make it, you'll need Graham Crackers.

Our Graham Crackers are simply scrumptious. They have the right blend of honey and brown sugar. Don't forget to pack some for your little explorer. Use the leftovers to make Grandma's No-Bake Cheesecake. Happy Birthday to you from the Yummee Yummee Team! This recipe for Cupcake Cookies is made with applesauce in the batter. These cookies stay moist for days and are lower in calories than an average cookie. Just don't count the frosting in your calculations. Pumpkin Chiffon Pie is a family tradition for Thanksgiving. This pie features a delicious Graham Cracker crust, rich pumpkin filling, and a fluffy whipped cream topping. Yummee!
Every candy shop serves a rich chocolate fudge with walnuts. Our Chocolate Fudge Cookies recipe captures this flavor in an easy to eat cookie package. Have Halloween year round with this recipe. Candy Apple Danish taste like a gooey caramel coated apple, complete with a maple flavored frosting. Don't drown in the apple bucket, bake these Danish today. The Yummee Yummee Team loves quick recipes, especially when they involve chocolate. This recipe for Brownies is made in your microwave. In about a half hour, you can be eating warm brownies. Yummee! Summer wouldn't be summer without Ice Cream Sandwiches. Use Chocolate Graham Crackers or Graham Crackers for this simple recipe.

A Pastry Crust Cheesecake is even easier to make than the traditional Graham Cracker crust. This quick and easy cheesecake recipe uses a can of cherry pie filling for the topping. Explore your endless possibilities with different fruit flavors. Peppermint patties? Chocolate covered caramels? Pick your favorite candy and enjoy a sweet surprise in these cookies. Candy Surprise Cookies feature sweet candy wrapped in a delicious chocolate cookie. Add a drizzle and decorations for even more fun. Don't wait until fall. Make some simply scrumptious Pumpkin Bars for dessert. Buttery Cherry Cream Cheese Danish is rich and decadent with cream cheese, cherry pie filling, and a delicately spiced crust. This recipe makes 8 Danish; perfect for Christmas morning, or any morning. Yummee!
Pandowdy is an old-fashioned dessert with a funny name, but it is extremely Yummee Yummee. Nectarine & Berry Pandowdy is bursting with summer fruits; fresh nectarines, blackberries, and raspberries. Do NOT forget the ice cream!
It's time you discovered Yummee Yummee premium gluten-free baking mixes and recipes. Every recipe is Yummee Yummee good and will please everyone - gluten-free or not. Yummee Yummee gluten-free Dreamees mix recipes are easy to make and full of flavors – Sweet or Savory.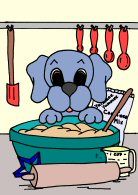 "Stop Dreaming . . . Start Eating!"
Read, print, or save our FREE Yummee Yummee recipes. It's easy. Click on the recipe image or description for the recipe in a PDF format. Use the Adobe Acrobat Reader to open, read, and print the recipes. Check our FAQ page for more information and details about the Adobe Acrobat Reader.
Discover your "ONE MIX . . . Endless Possibilities!"