Gluten-Free Microwave Recipes
Gluten-Free Microwave Recipes are fast and effortless. Make eating gluten-free easy with your

microwave and a few basic kitchen tools. Make meals and desserts in minutes. Mac 'N Cheese, Chicken Vegetable Soup, Chocolate Chip Cookie Bars, Pizza, and more. Make enough for you to eat, share, or save for late night snacks and treats. It's gluten-free! It's fast! It's easy! It's Yummee Yummee!
Discover your "ONE MIX . . . Endless Possibilities!"
Pizza, Pizza, and More Pizza
Make a quick and easy cheese pizza - warm and fresh from your microwave. Thin Crust Pizza

recipe creates a deliciously crisp crust from the microwave. Top this versatile recipe in creative ways. Head South of the border. Pizza Olé

features chunky salsa, Southwest Chicken, and Colby Jack cheese. Yummy! Ham, Broccoli, and Alfredo Pizza

is a healthy, fresh tasting dinner. Top your pizza with Alfredo sauce, ham, broccoli, and Mozzarella cheese. Chicken Cordon Bleu Pizza is a simply scrumptious pizza. Enjoy the flavors of Alfredo sauce, chicken, ham, and savory green onions. Simple and quick

to make.

Soft Crust Pizza satisfies your cravings for a yeast-free pizza with minimal effort. Do you like to play with your food? Dreamee Dog and Yummee Yummee know pizza crust is just a canvas for some food fun. Try any of our fabulous decorating ideas, available on the Free and Fun pages. You can use the same recipe for pizza crust and bake the crust rather than using the microwave. Have a dinosaur for lunch!
Sweet Treats to Eat
Brownies are an amazing technological invention. They are the perfect delivery system for a massive dose of chocolate. Microwave Brownies

make a chocolate craving vanish in less than 45 minutes. Bananas and nuts fill this bar with flavor. Banana Nut Bars

are a great late night energy boost or a get-you-going breakfast bar to start your day. Enjoy! Brown Sugar Cranberry Bars

are a decadent, sweet treat. These bars feature the flavors of pecans, cranberries, and brown sugar. Sticky and fun. It's time for a childhood flashback with Crispiees. Marshmallows, butter, vanilla, and crisp rice cereal combine

to create this gooey snack.
Enjoy a quick, sweet breakfast with a cup of coffee or tea.

Maple Fudge Blondies are decadently sweet with brown sugar. Yummee Yummee put chocolate in your peanut butter, or is it the other way around? Either way, Chocolate Peanut Butter Bars

are loaded with peanut buttery goodness and decadent sweet chocolate. It's cookie break time! Don't heat up the kitchen. Make

these Chocolate Chip Cookie Bars. Our Mini Donuts are simply scrumptious, made with Dreamees mix. You do need an oven and special pan to bake these tasty morsels.
Meals, Sides and More
Enchilada Pie

is surprisingly quick to make. Top each slice with fresh tomatoes, lettuce, salsa, more cheese, and sour cream. It's easy to enjoy a loaded Baked Potato

in minutes with your microwave. Pile on the toppings - butter, cheese, bacon, sour cream, chives, salsa, peppers ... Mac 'N Cheese

is the ultimate comfort food. Forget the boxed stuff - forever! This is better and just as quick to make. Chicken Vegetable Soup

is a great way to ward off the winter sniffles and is wonderful on cold, damp, rainy, or snowy days. Chicken, carrots, green beans, corn, peas, and pasta create an easy-to-make soup for lunch or dinner. Every chef needs go-to recipes in a pinch.
Southwest Chicken

is mildly spicy. It's the perfect addition to tacos, burritos, pizzas, salads, and more. Crunchee Southwest Chicken Tacos

feature our Southwest Chicken in all its feisty glory. Add some shredded lettuce, diced tomatoes, cheese, sour cream, and taco sauce. Enjoy that first crunchy bite. Make Nachos

for a quick and easy lunch. Cover tortilla chips with refried beans, shredded cheese, bacon bits, and salsa, and top with fresh diced tomatoes and sour cream. Microwave Quesadillas start with gluten-free tortillas. Choose your cheese and your luncheon meat and get started.

Serve with vegetable sticks, fruit, applesauce or cottage cheese, and chips. Lunch is done. Enjoy!
If you can microwave a baked potato, you can make this soup. Made with baking potatoes, this soup is warm, satisfying, rich, and creamy. Don't forget the bacon bits and cheese! Choose between dried chives or sliced green onions for an amazing meal. Baked Potato Soup can easily be doubled for a hungry family.

Yummee Yummee recipes are

always created with variety and flexibility in mind. Make and enjoy Brownies, Banana Nut Bars, Pizza, or Enchilada Pie. Even when you are frazzled from a busy and hectic day, you can eat a good gluten-free meal or dessert. Put your microwave to work and make something yummee today!
It's time you discovered Yummee Yummee premium gluten-free baking mixes and recipes.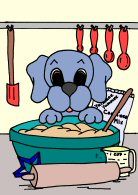 Every recipe is Yummee Yummee good and will please everyone - gluten-free or not. Bake what you want to eat, not what's in the bag or box. Yummee Yummee's premium gluten-free baking mixes are easy to use with proven and tested recipes. There's no guesswork. Follow the recipe for delicious results every time you bake. Or, try a flour blend and hope for the best. Add Yummee Yummee goodness to your pantry. Select a recipe to make, bake or microwave, eat, and enjoy - today! Enjoy Yummee Yummee's recipes for pizza, sweet treats, meals, nachos, and more.
"Stop Dreaming . . . Start Eating!"
Read, print, or save our FREE Yummee Yummee recipes. It's easy. Click on the recipe image or description for the recipe in a PDF format. Use the Adobe Acrobat Reader to open, read, and print the recipes. Check our FAQ page for more information and details about the Adobe Acrobat Reader.
Discover your "ONE MIX . . . Endless Possibilities!"